Since 1964 the LIBA-Lingener Baumaschinen constructed and selling Trench-Cutter machines under the Name "Grabenmeister". The manufacturing of the Trench-Cutter, which are selling all over the world, has beginning in a small factory. The inquiry of our machines and the enlarge from our Range of Products results that we have enlarge and modernize the factory since 1994.
We are pleased to present our company and you are all the time wellcome in Lingen.
Our trenchers can be used in the following areas:
Sports field construction
Sport field drainage
Golf course drainage
Civil Engineering
Cable construction
Lightning protection
Railroad construction
Used machines
Special machines
Rental
Sale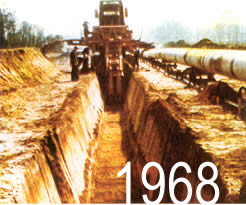 In 1968, LIBA constructed one of the biggest Trench-Cutter The "Grabenmeister G 1500", with 250 HP output and digging Dimensions of 4500 x 1500 mm.
Today LIBA - Lingener Baumaschinen presents itself as a streamlined company in production and administration. With a workforce of about 20 employees, it is able to offer highly modern and specialized machines and system solutions. These include self-propelled machines, attachments or special machines for a variety of uses. The export share is 35% of total sales.
We are happy to give you the opportunity in our factory in Lingen to personally convince yourself of the efficiency of our trenchers "Grabenmeister".
With LIBA products, the work is considerably facilitated, and our customers achieve a decisive improvement in quality through perfected machining processes.
If you have any questions, please use our contact form. We will deal with your concern immediately and contact you. You can also call us on +49 (0) 591 - 76 314. We are looking forward to your visit!