Drainage channels, drainage systems or pitch heating for football stadiums - the trencher Grabenmeister GM4 crawler is an all-rounder
Versatile, even in hot, impassable or mountainous regions. This modern trencher is the reliable machine. Especially when it comes to trenches or channels.
Equipped with an all-terrain four-wheel drive in the basic version, the tracked version offers even more safety, precise driving comfort and optimum load distribution. The trencher with chain drive feels at home on the edge of the field where a drainage channel is planned. But also on the football pitch, where it cuts the channels for pitch heating - without ruining the turf.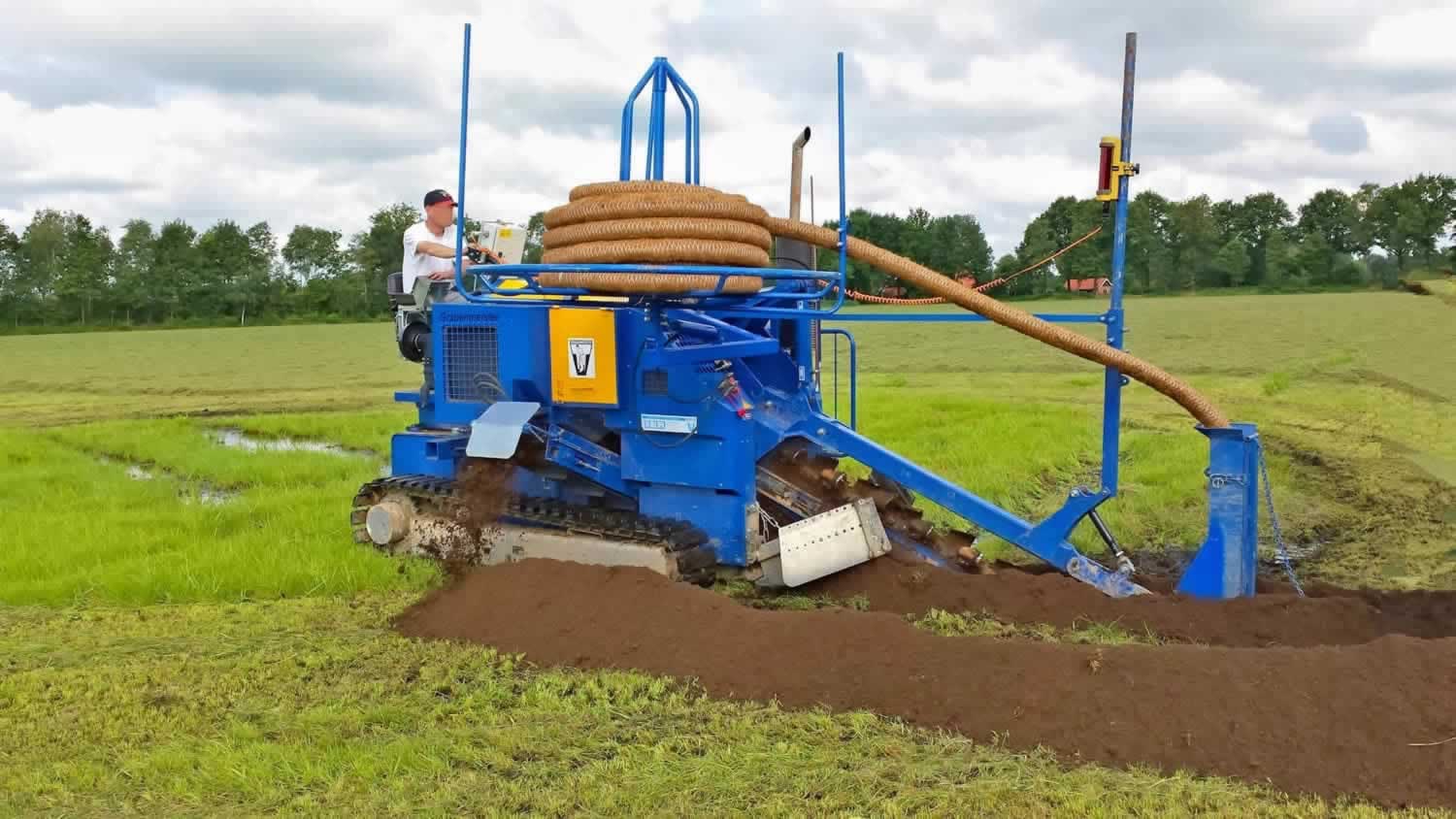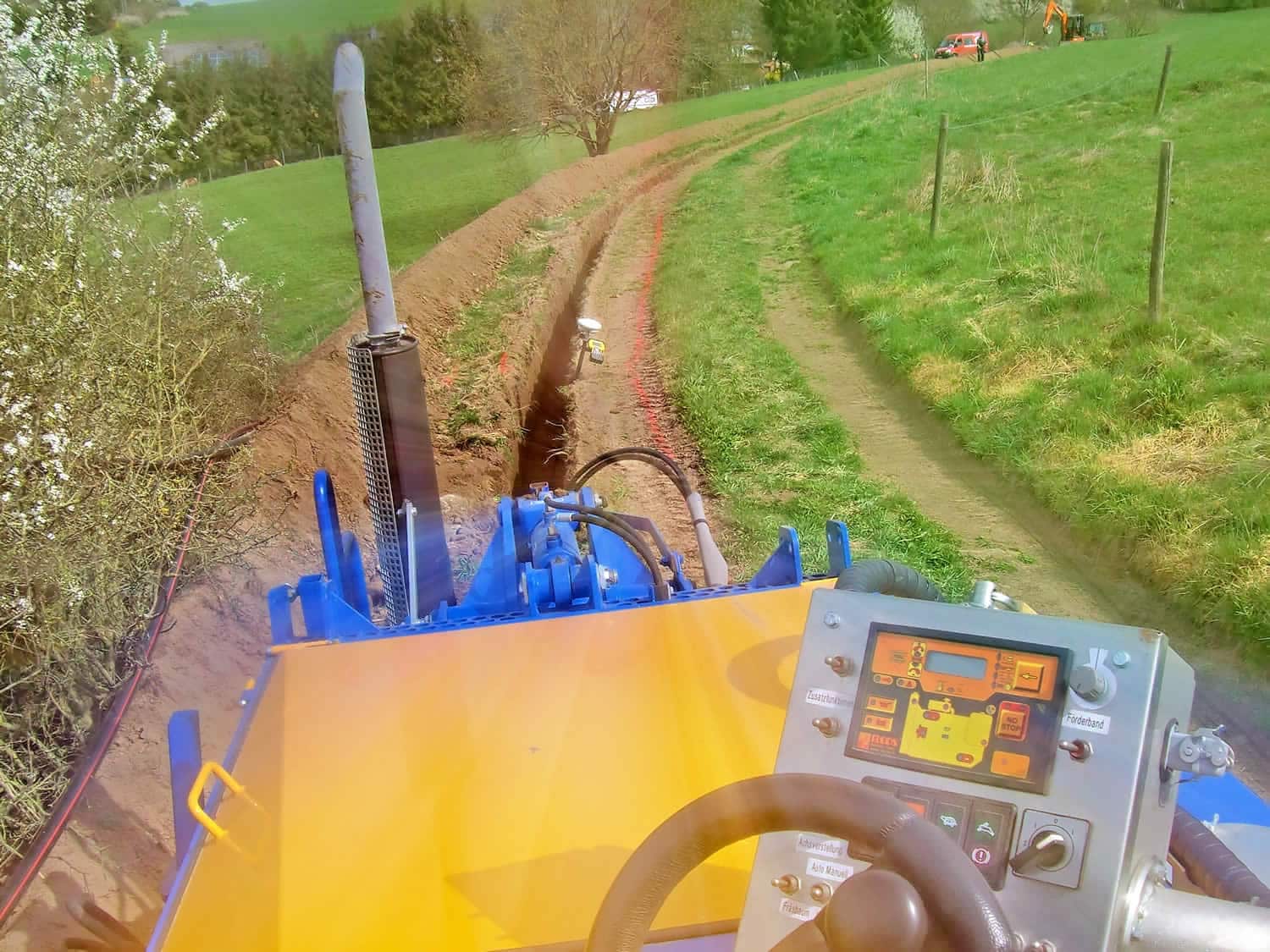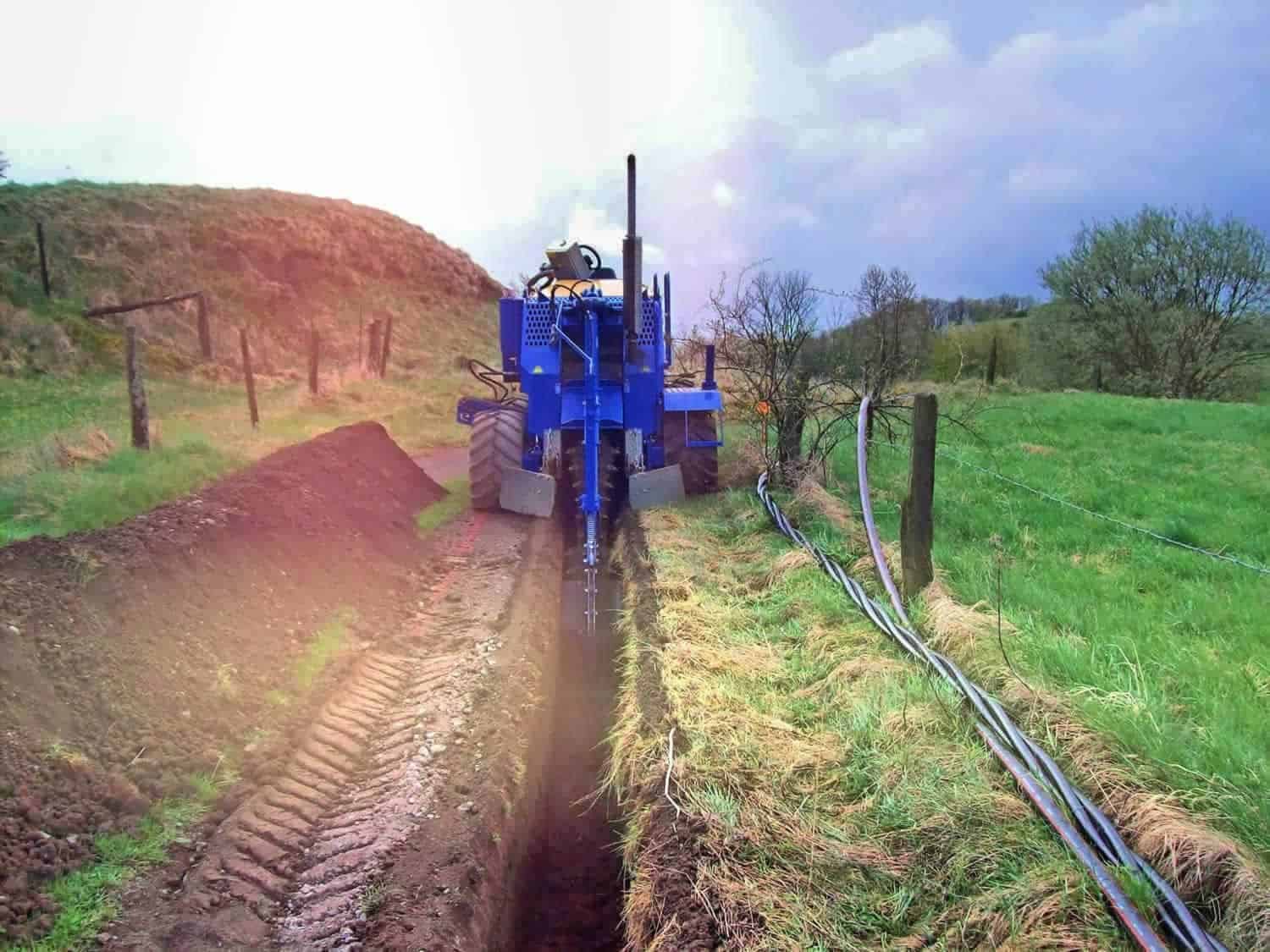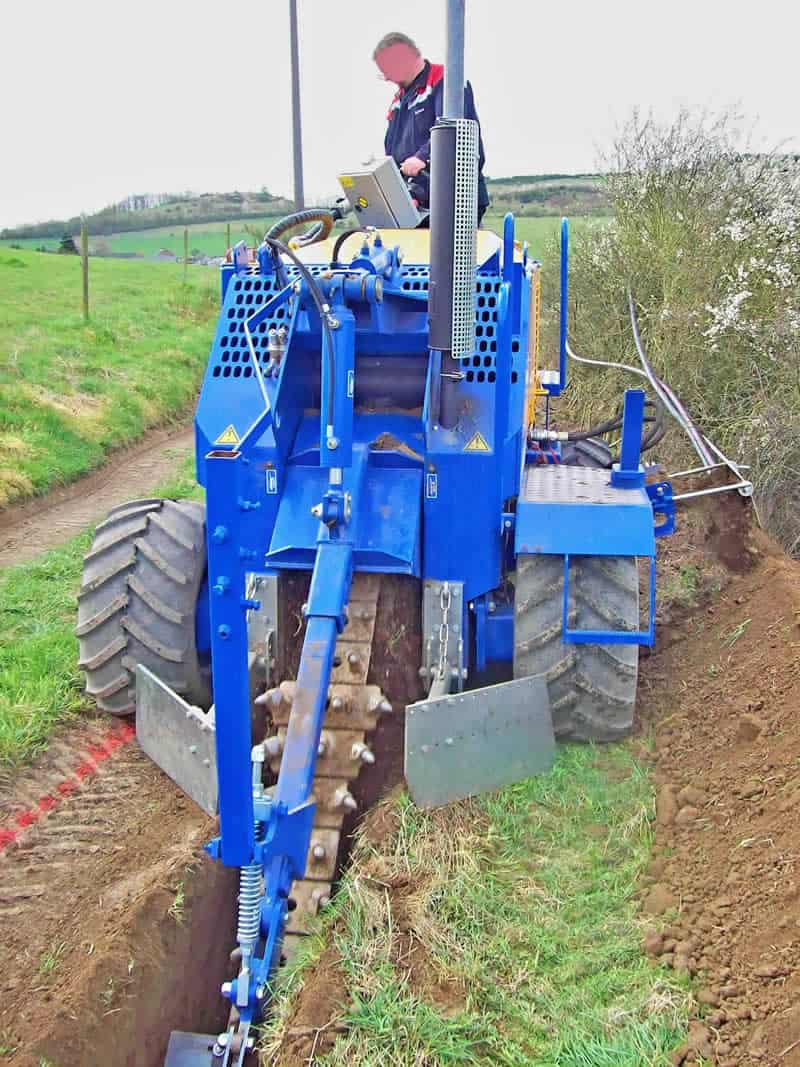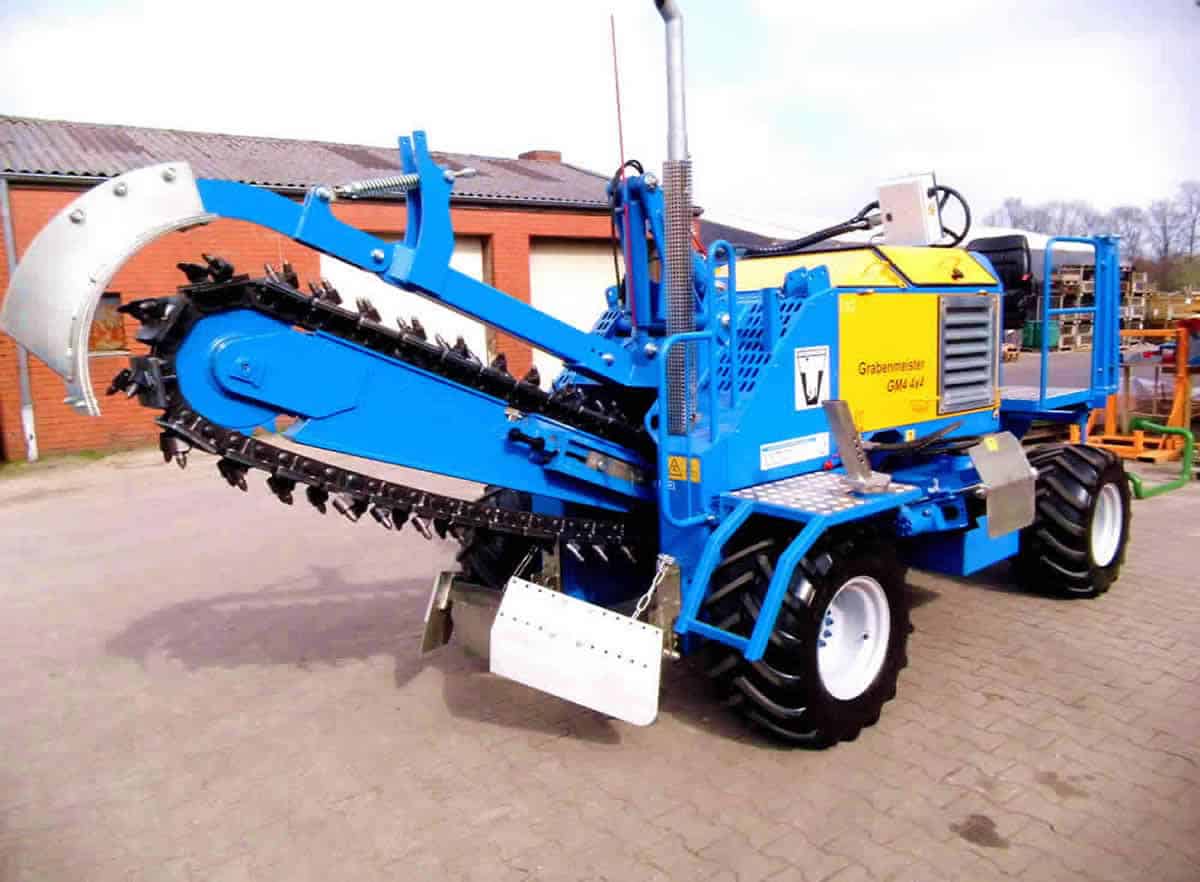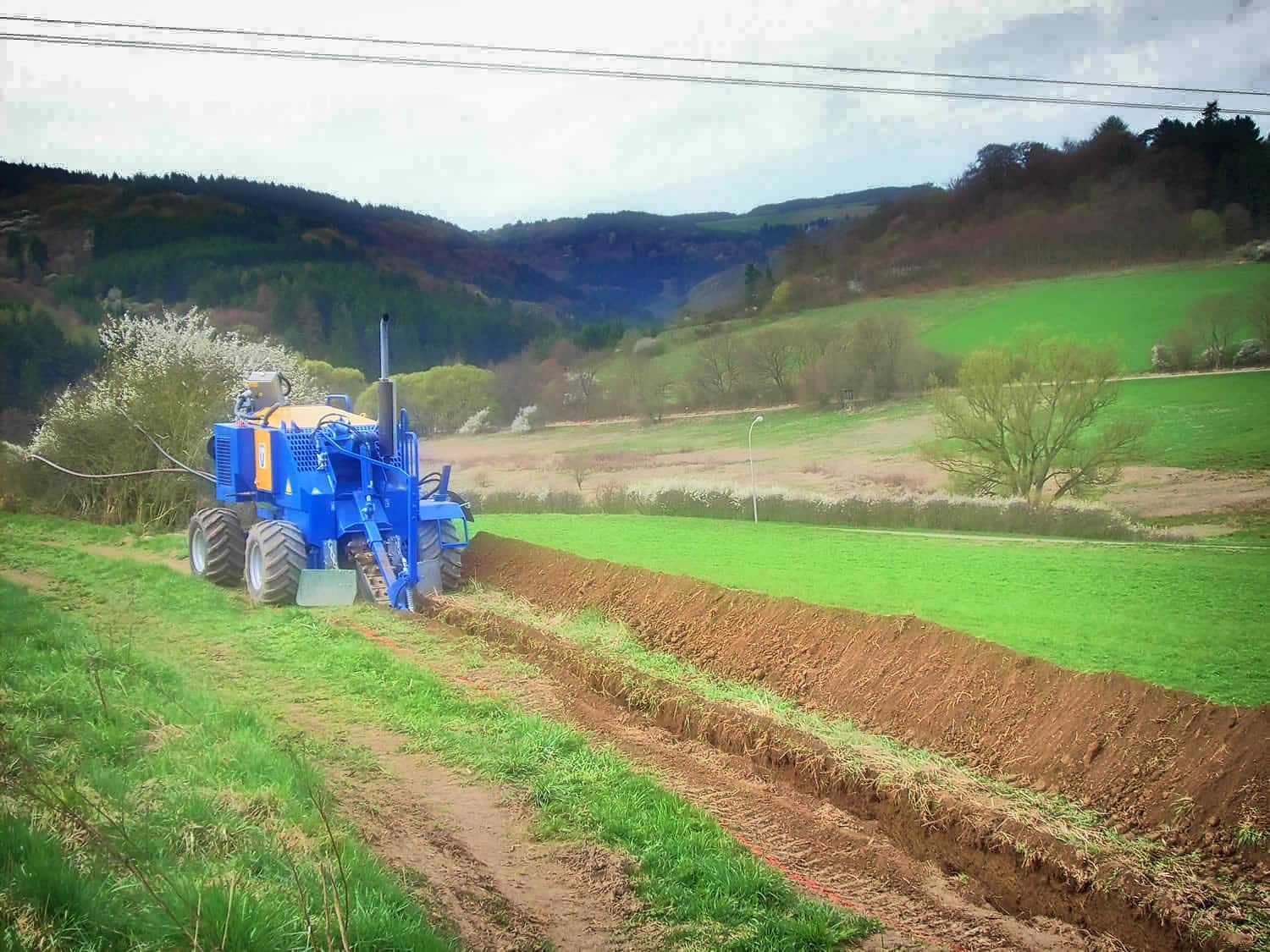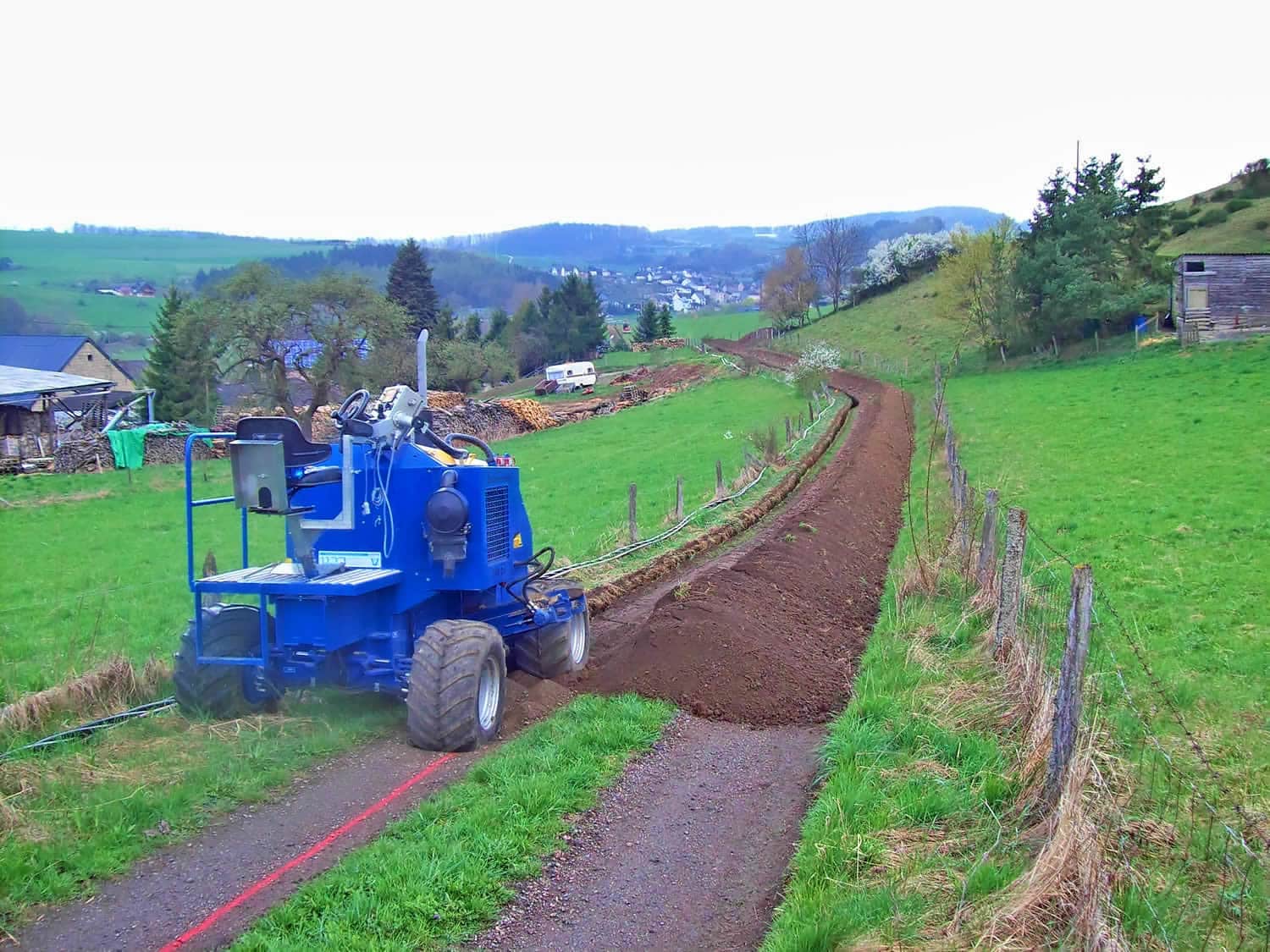 image-slider-with-thumbnail1.jpeg
image-slider-with-thumbnail2.jpeg
image-slider-with-thumbnail3.jpeg
image-slider-with-thumbnail4.jpeg
image-slider-with-thumbnail4.jpeg
image-slider-with-thumbnail4.jpeg
image-slider-with-thumbnail4.jpeg
image-slider-with-thumbnail4.jpeg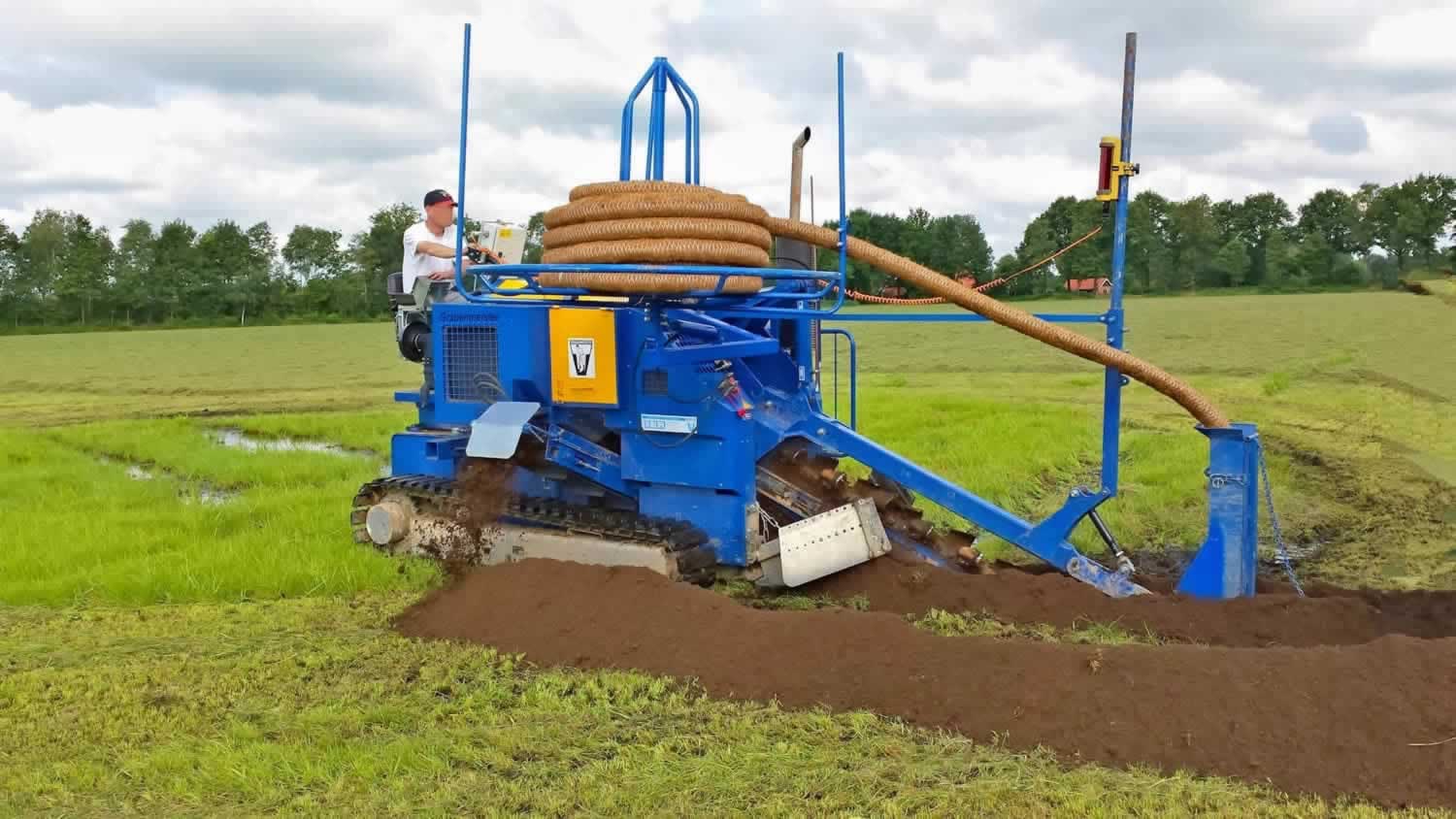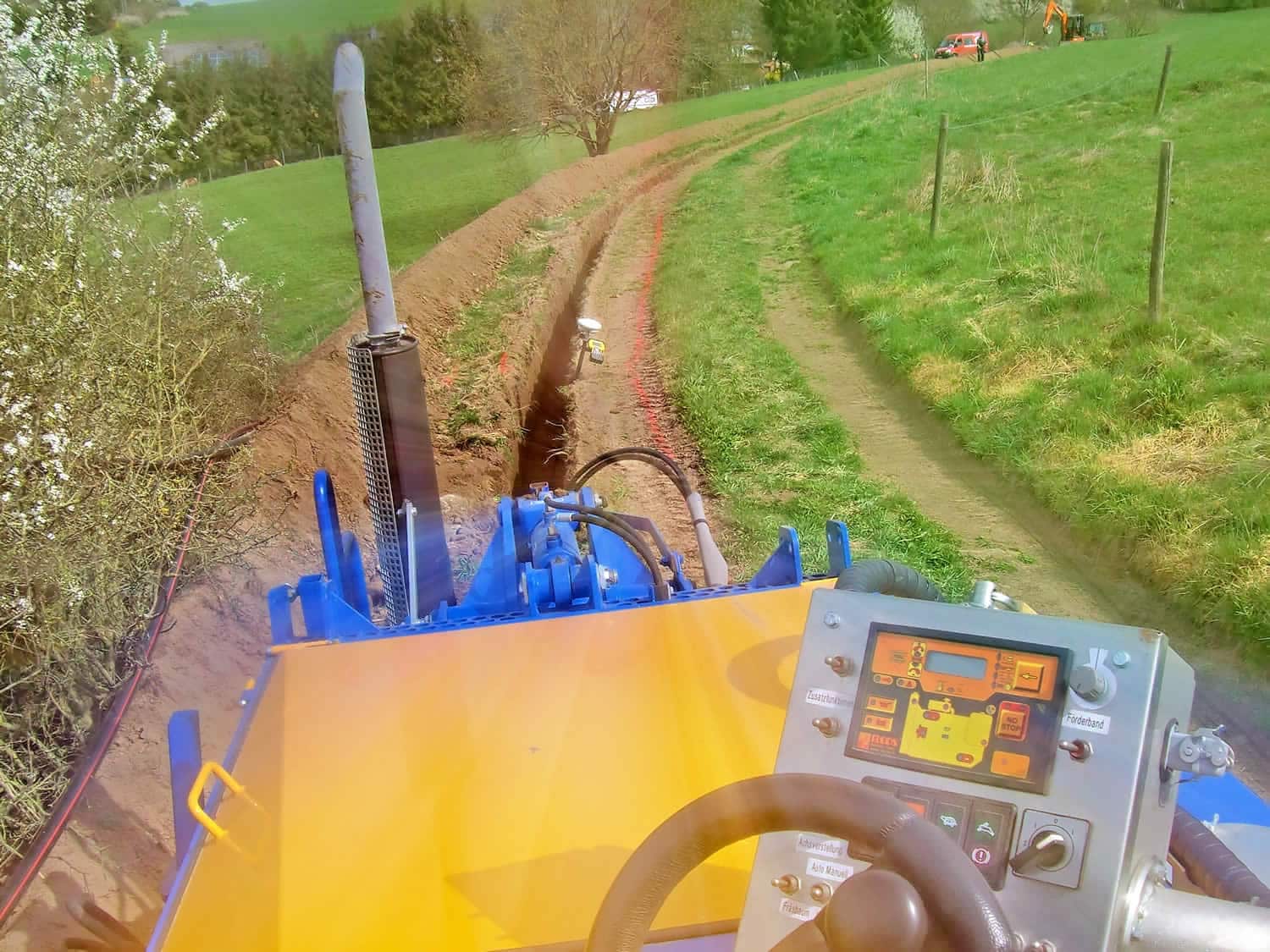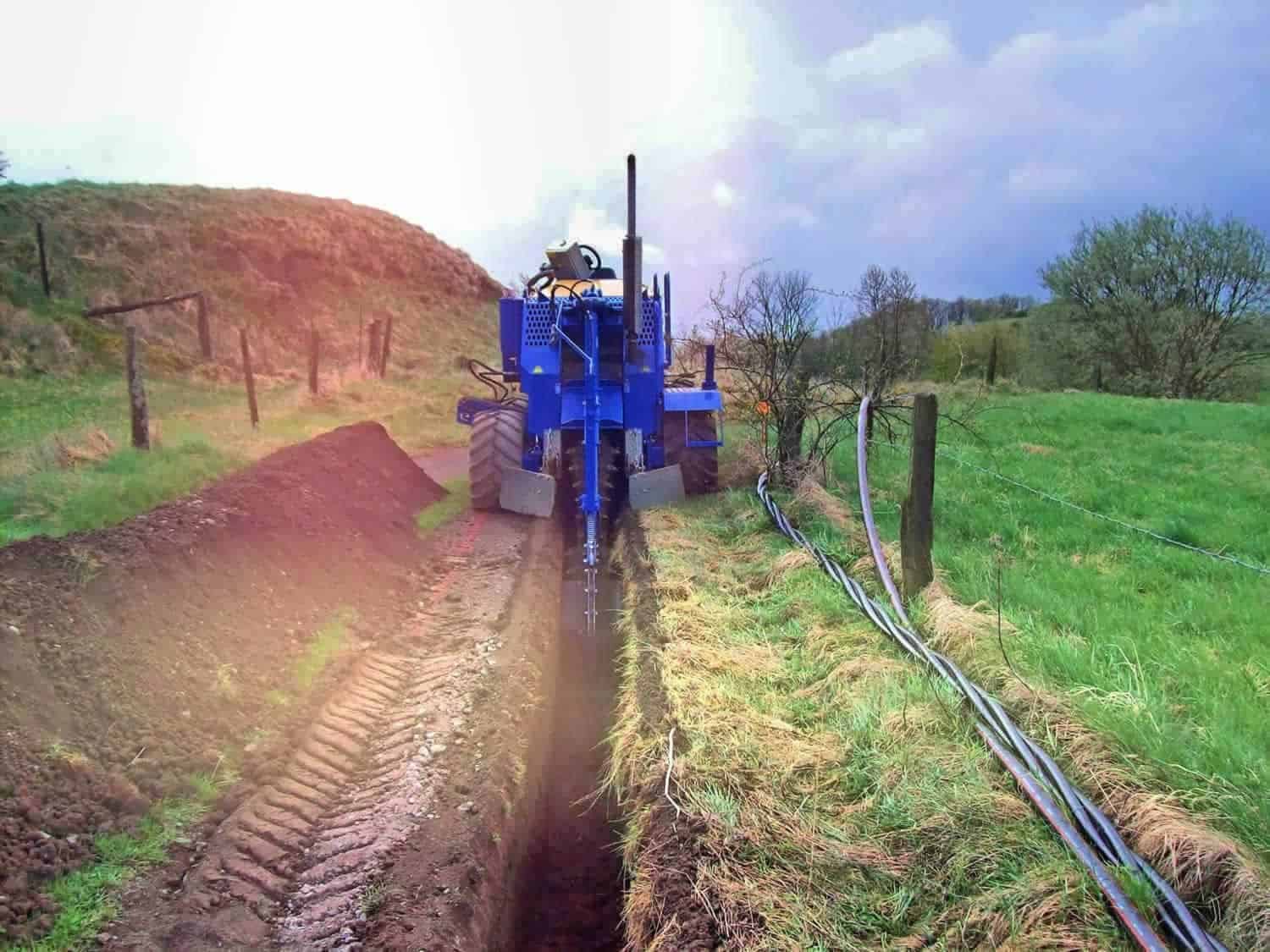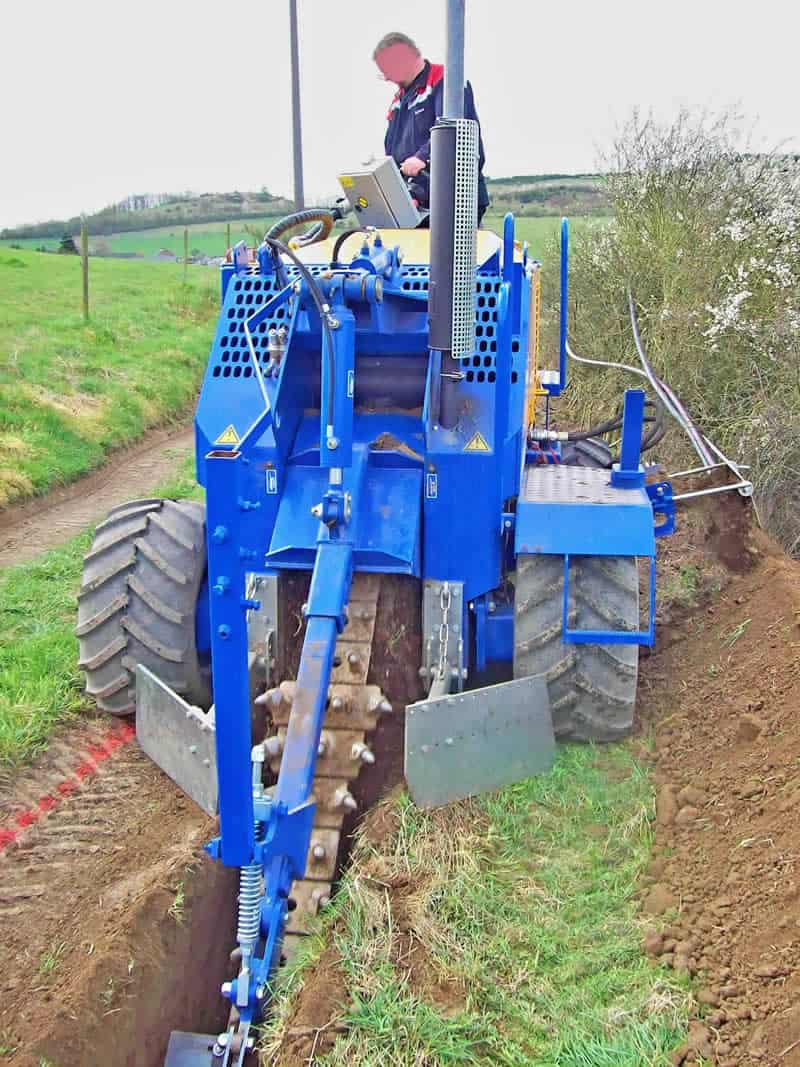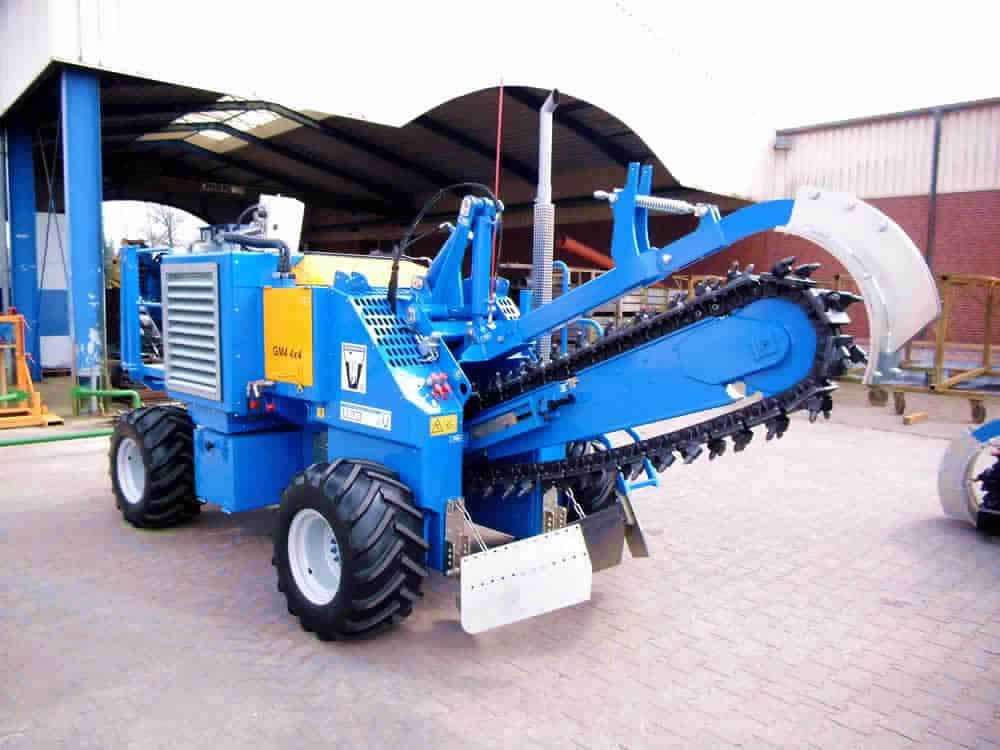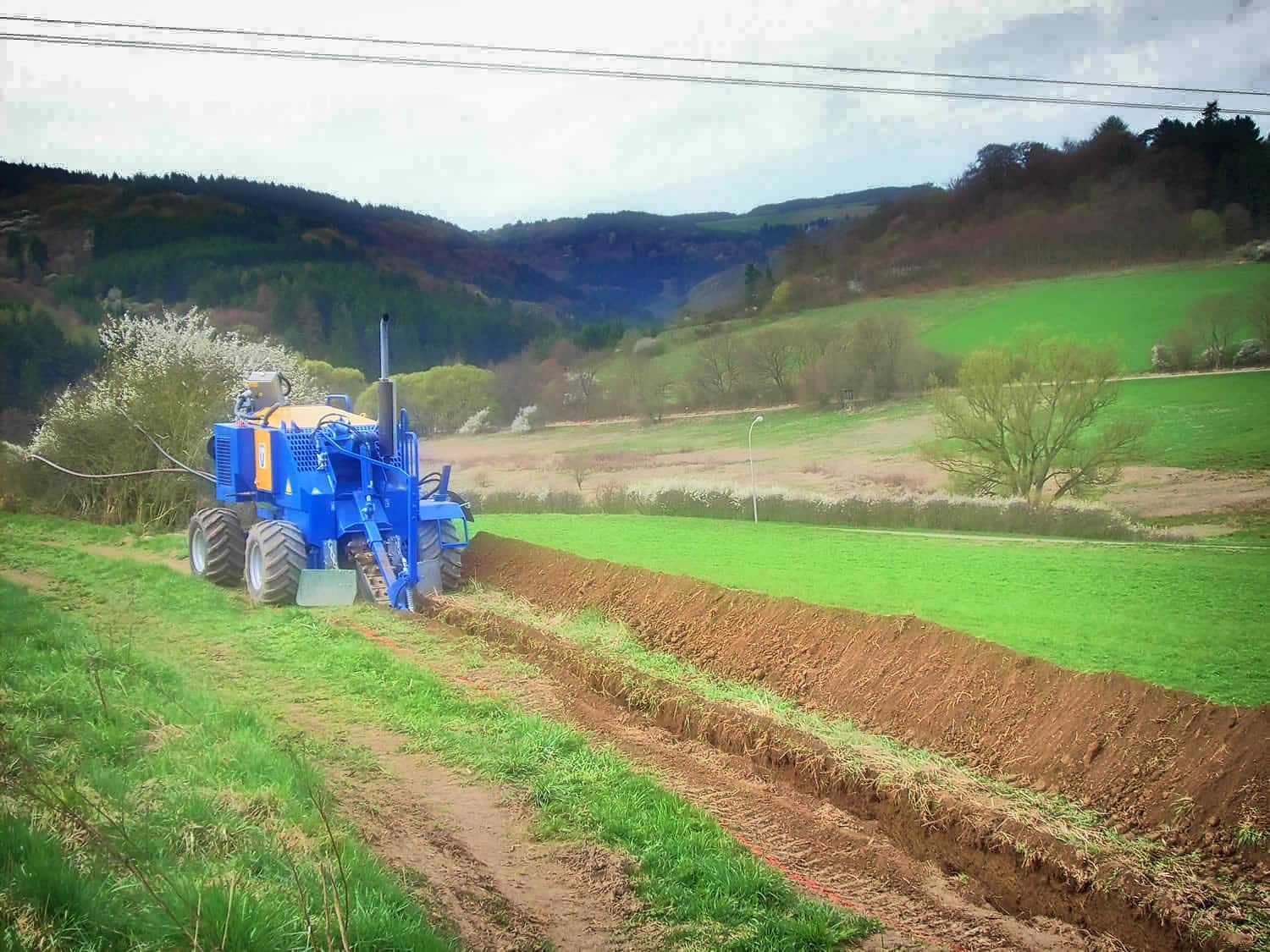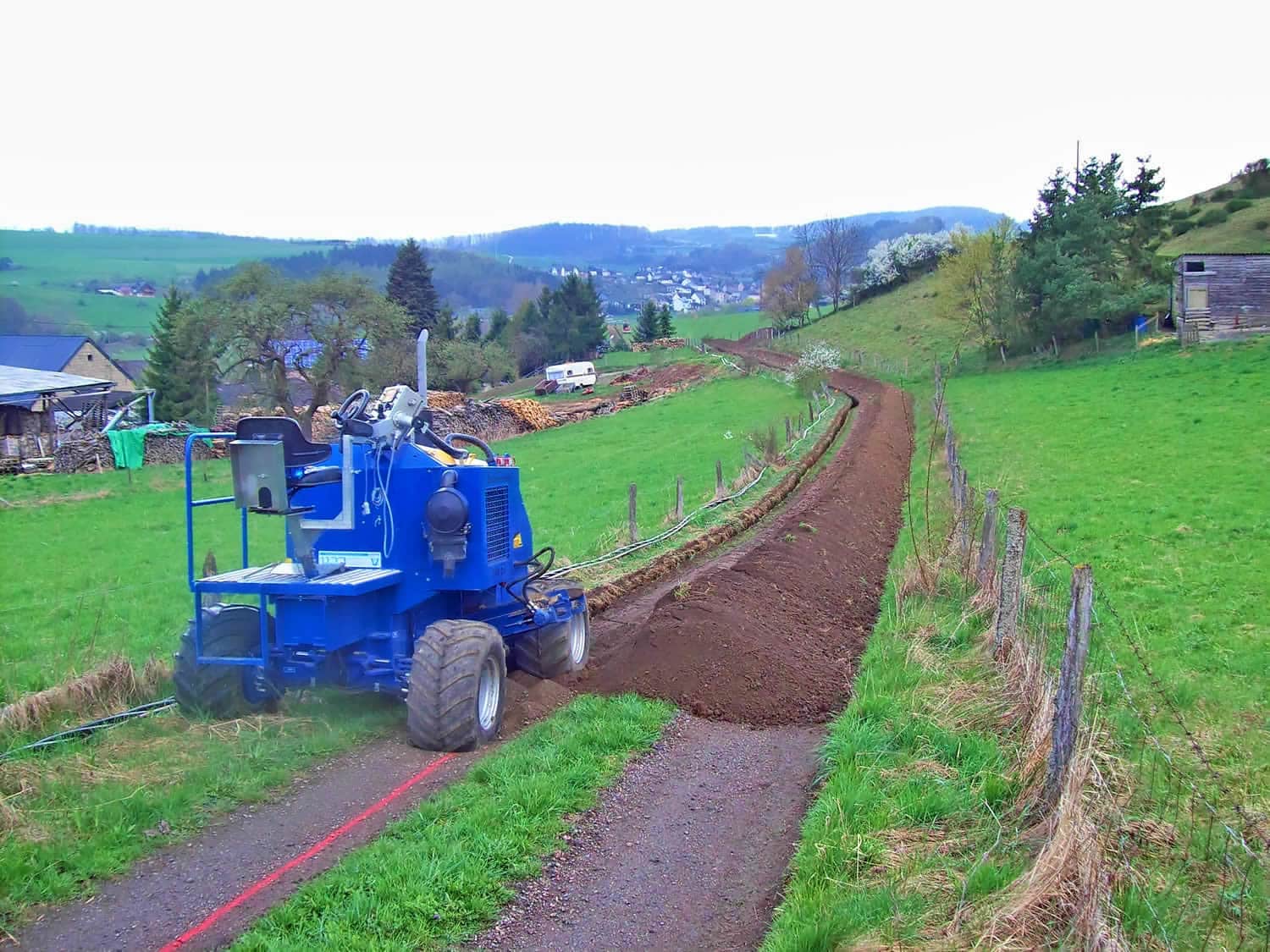 The technically sophisticated equipment of the Grabenmeister GM4 crawler
An economical but very lively 4-cylinder diesel engine provides propulsion and sufficient power on the milling chain. Therefore, even heavy clay soils or muddy terrain are hardly a challenge for this flexible machine. The excavated material is ejected to the desired side. Via a conveyor belt, it can also be disposed of directly onto an accompanying vehicle, which you can rent together with the trencher.
Im Einsatz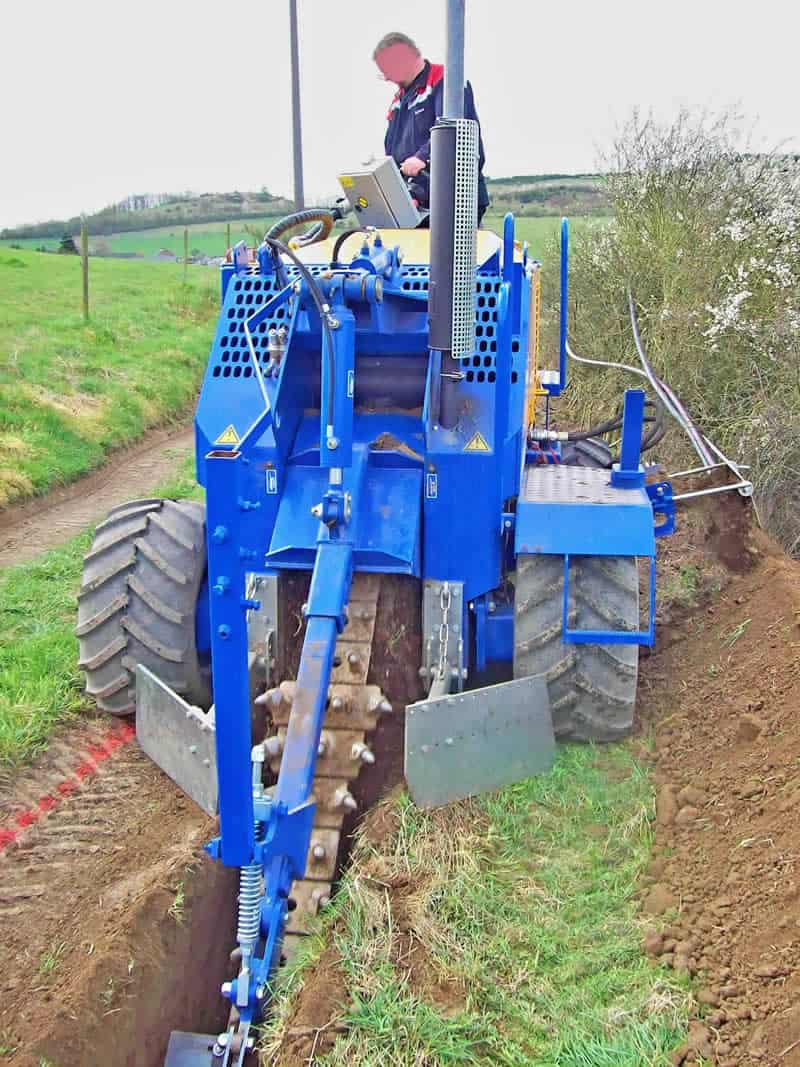 Im Einsatz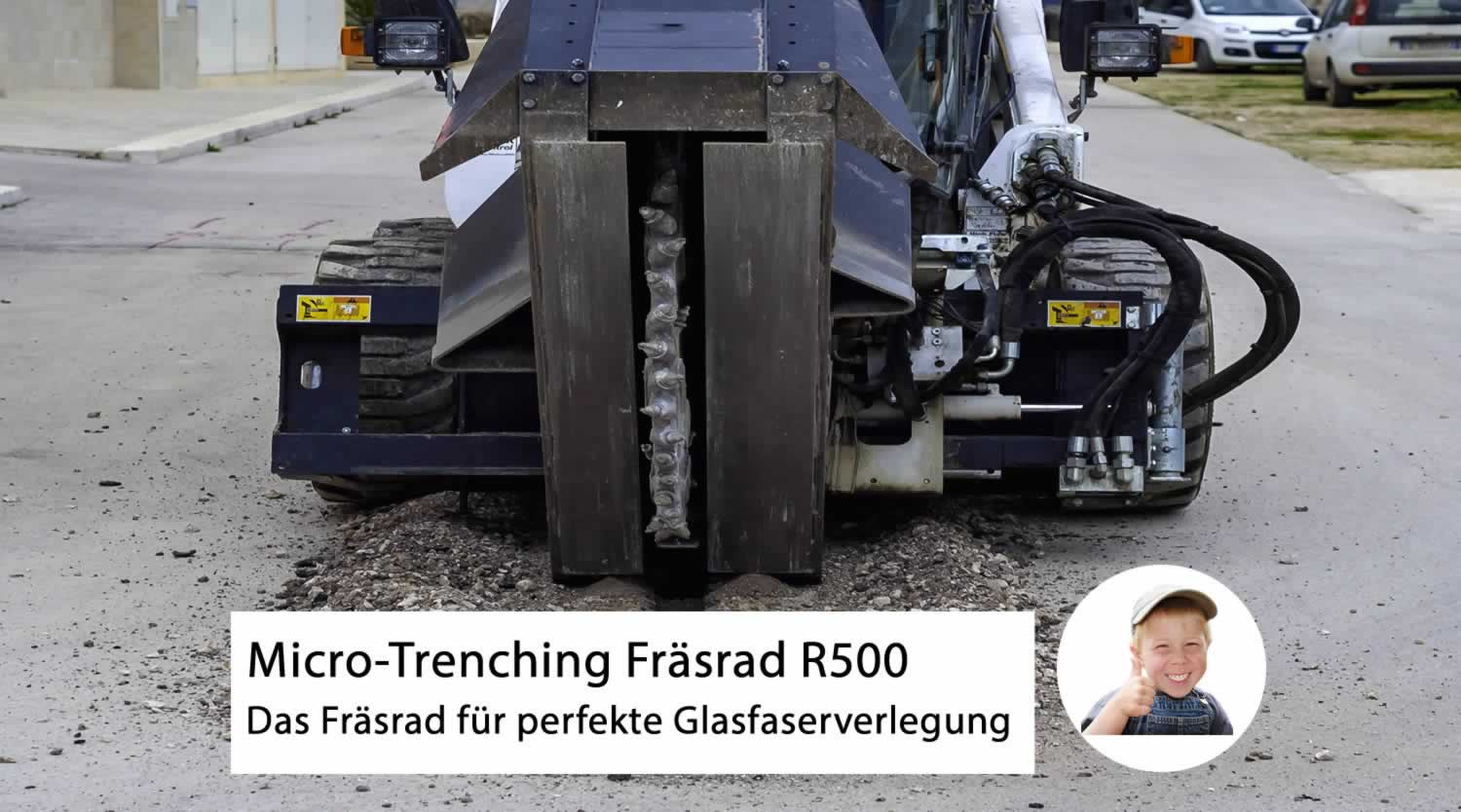 Im Einsatz
Im Einsatz
Im Einsatz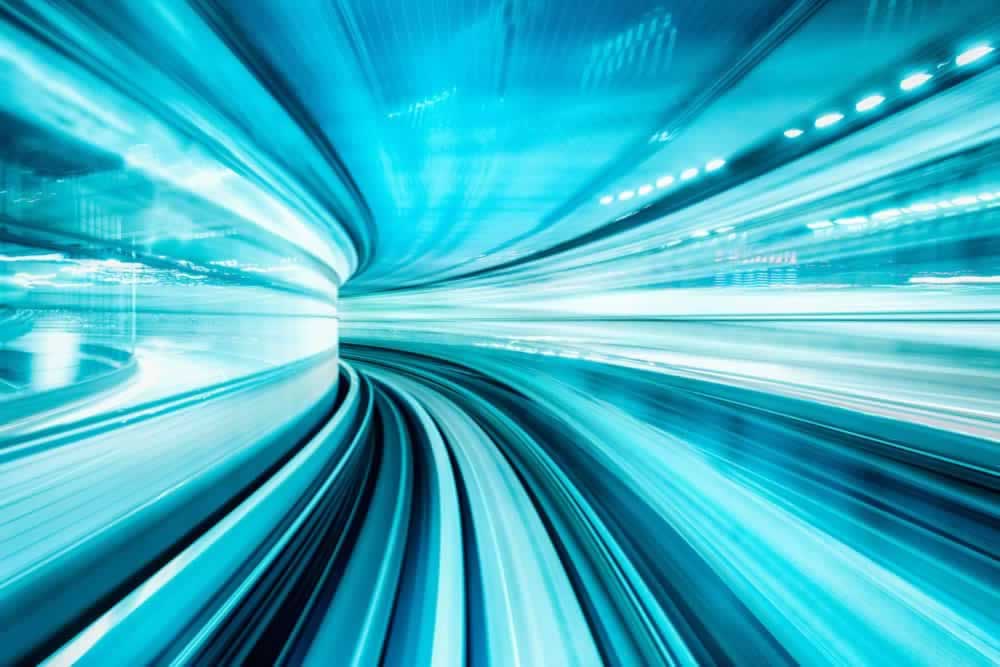 Im Einsatz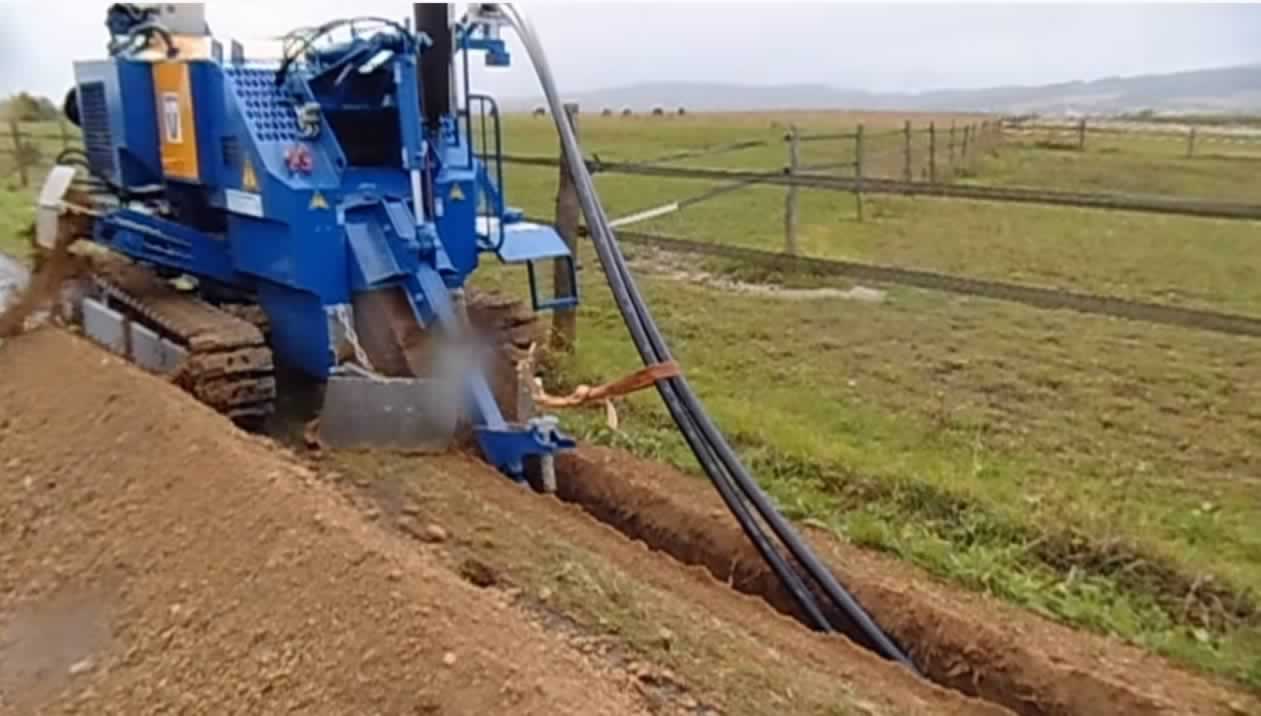 Im Einsatz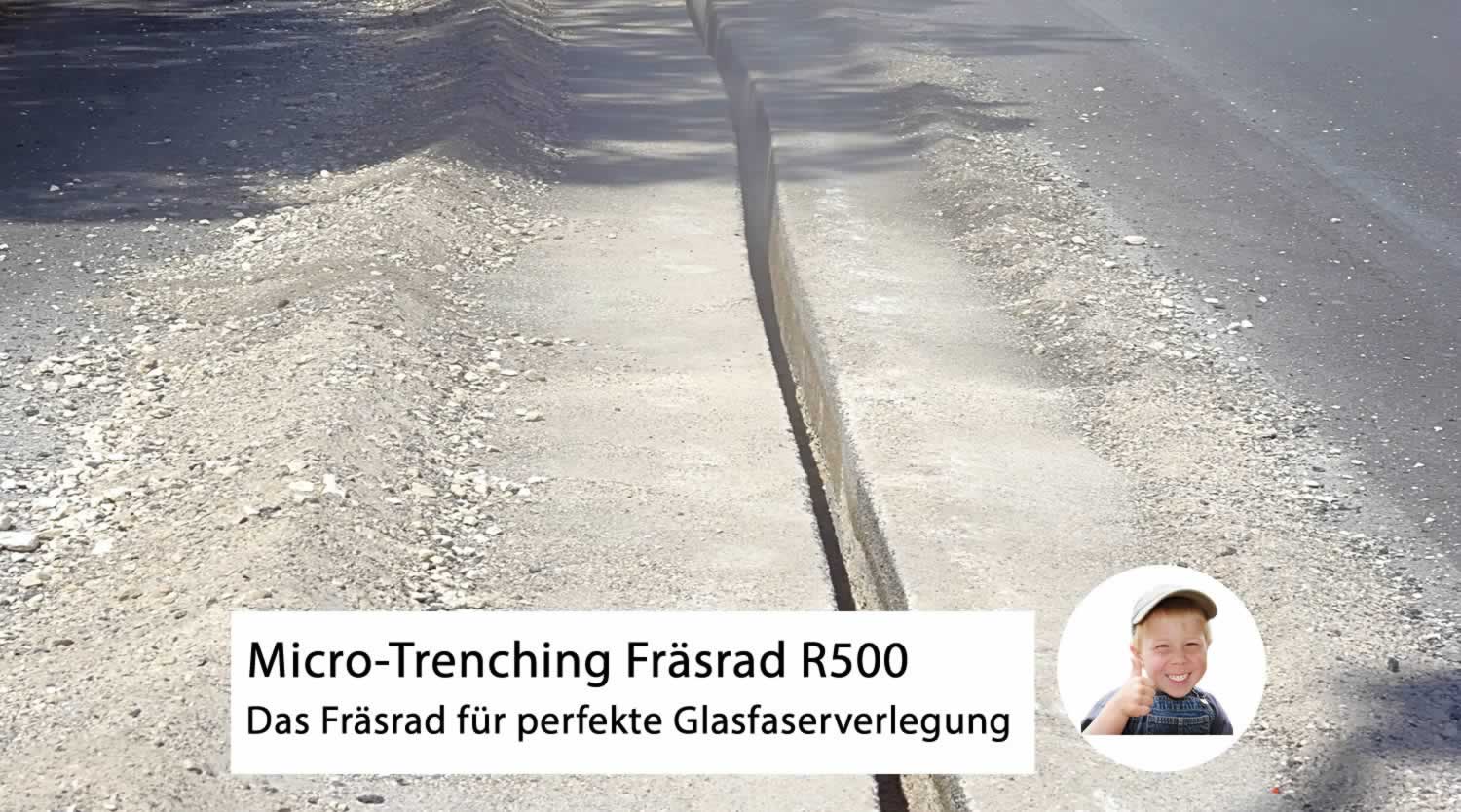 Im Einsatz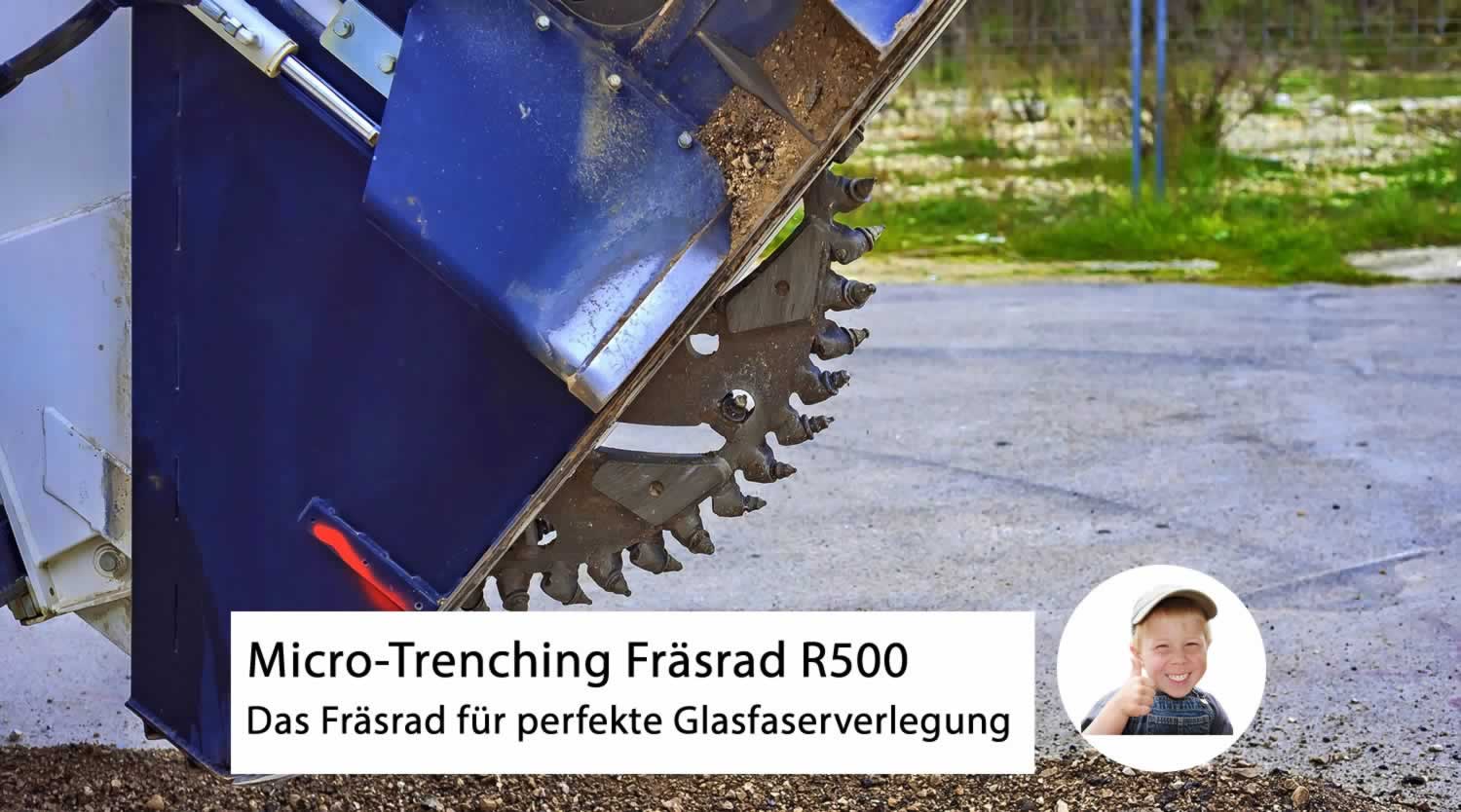 Im Einsatz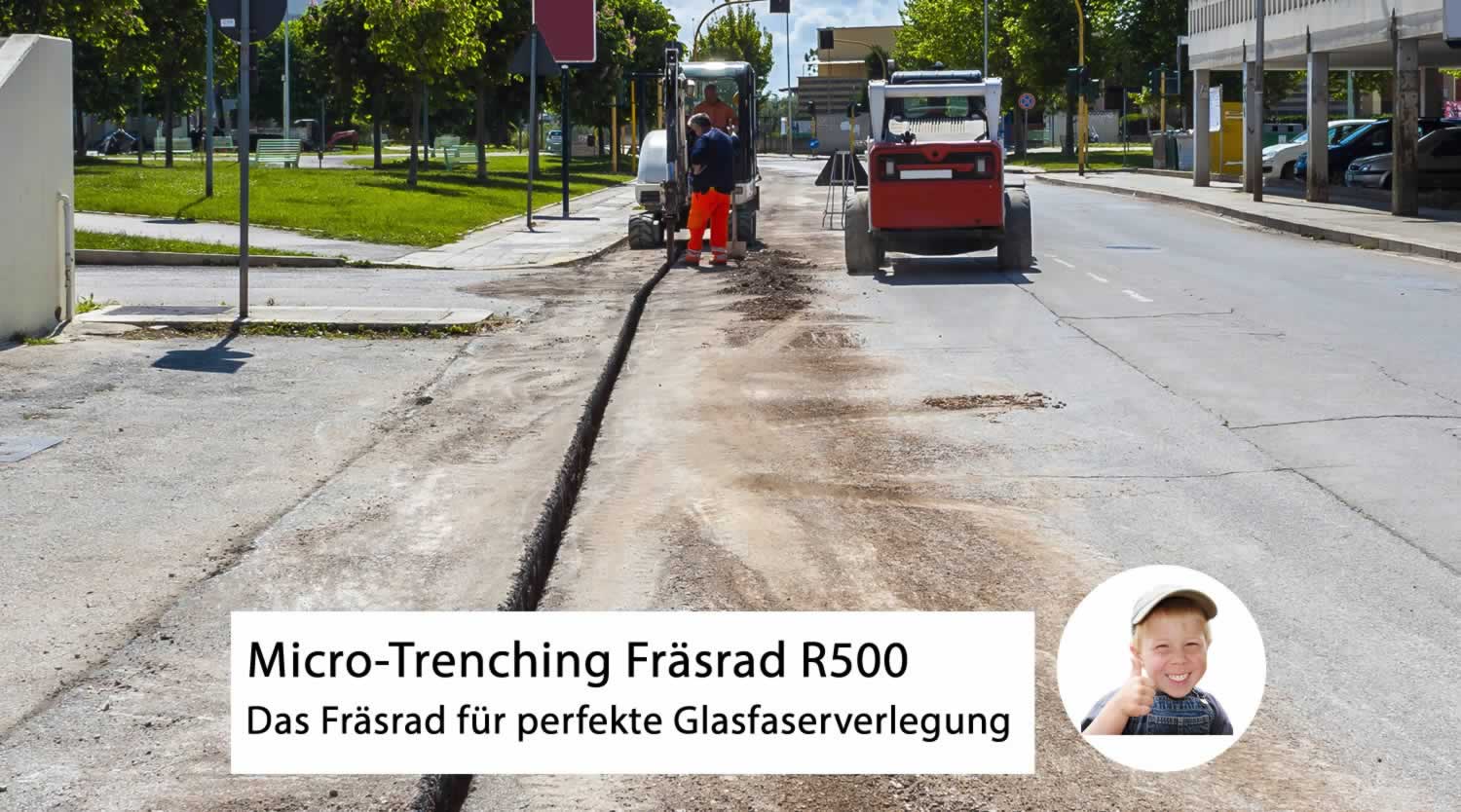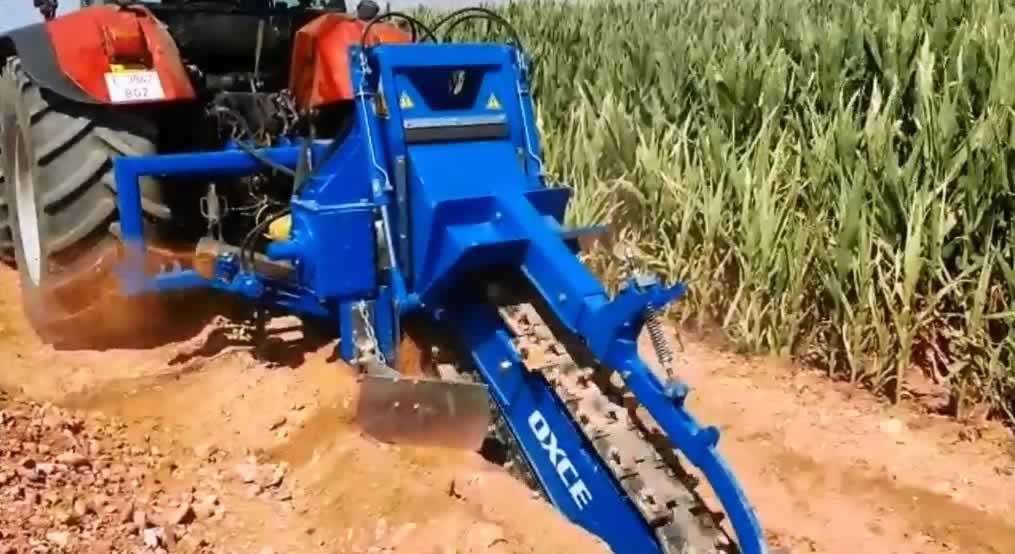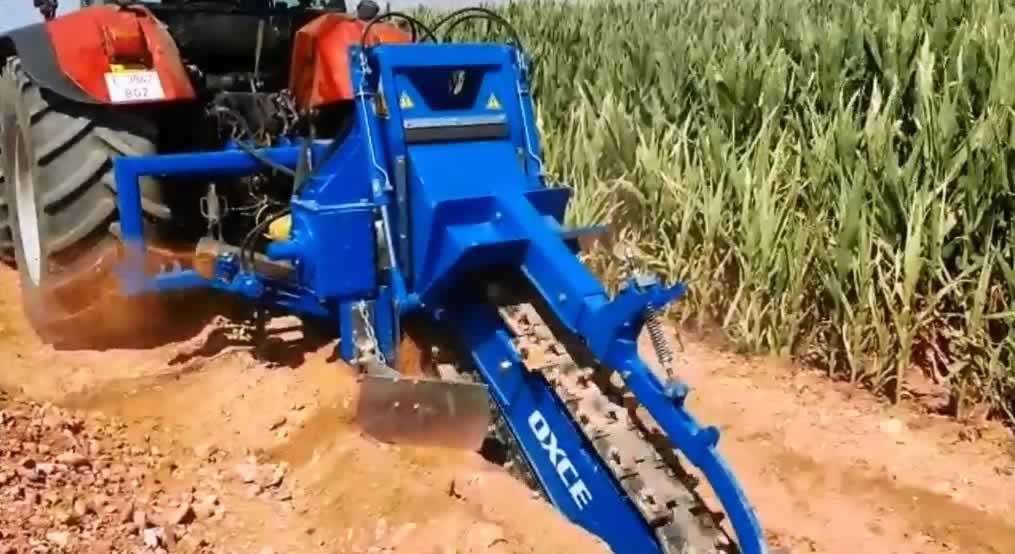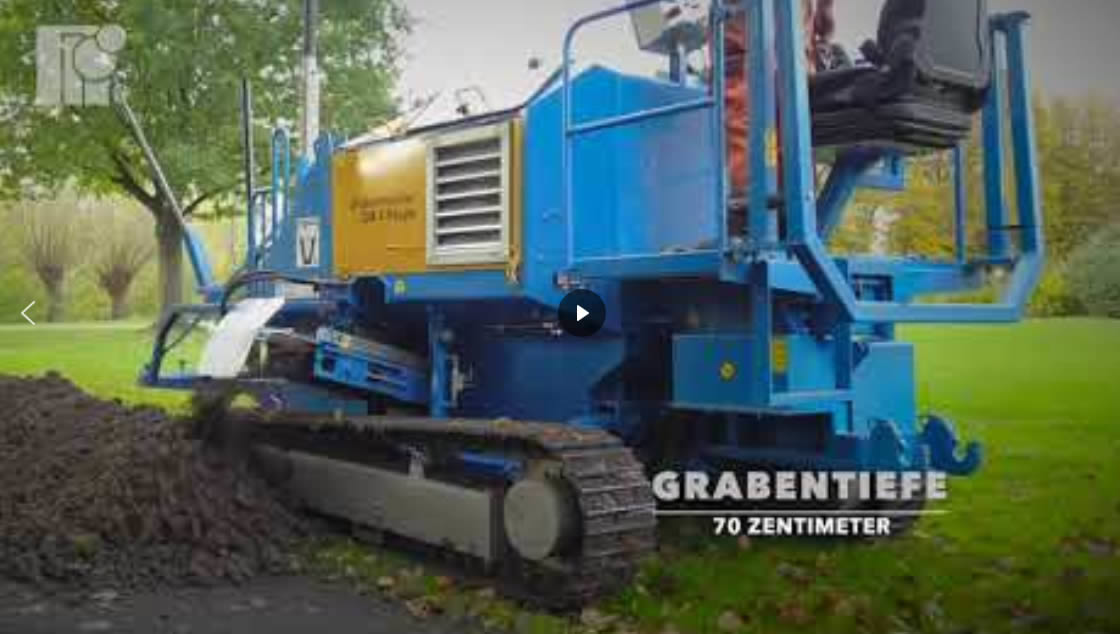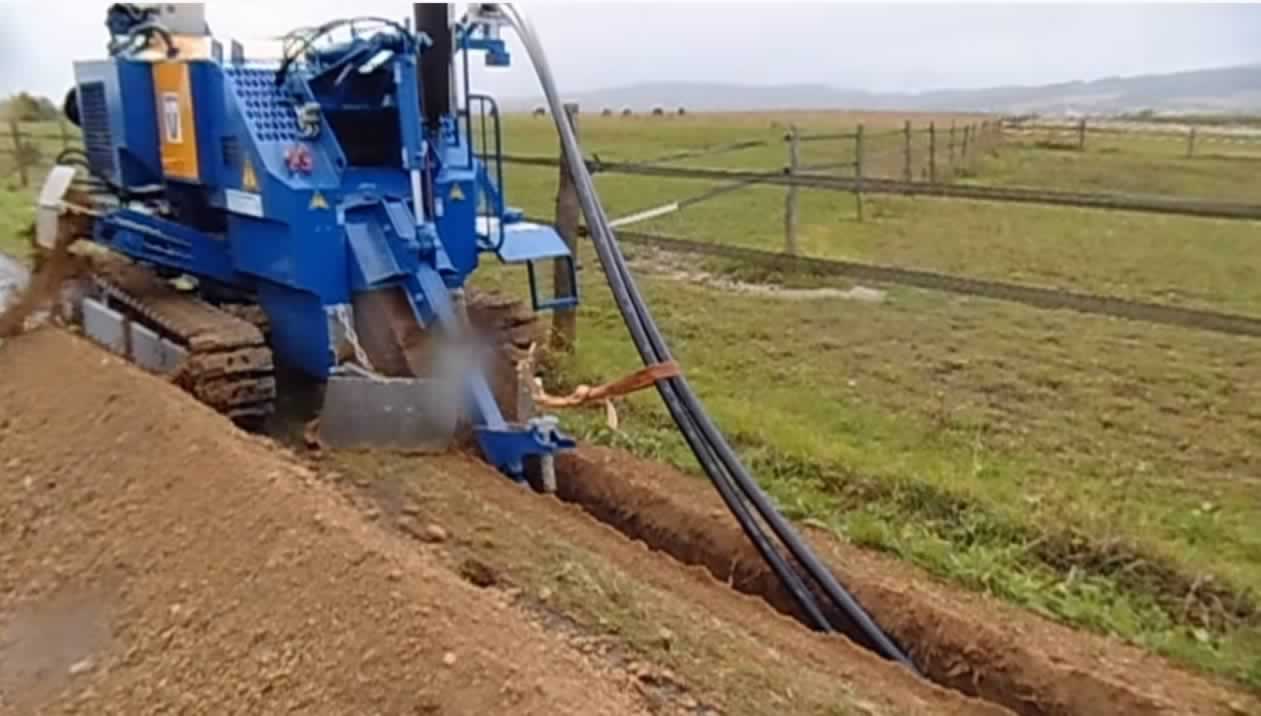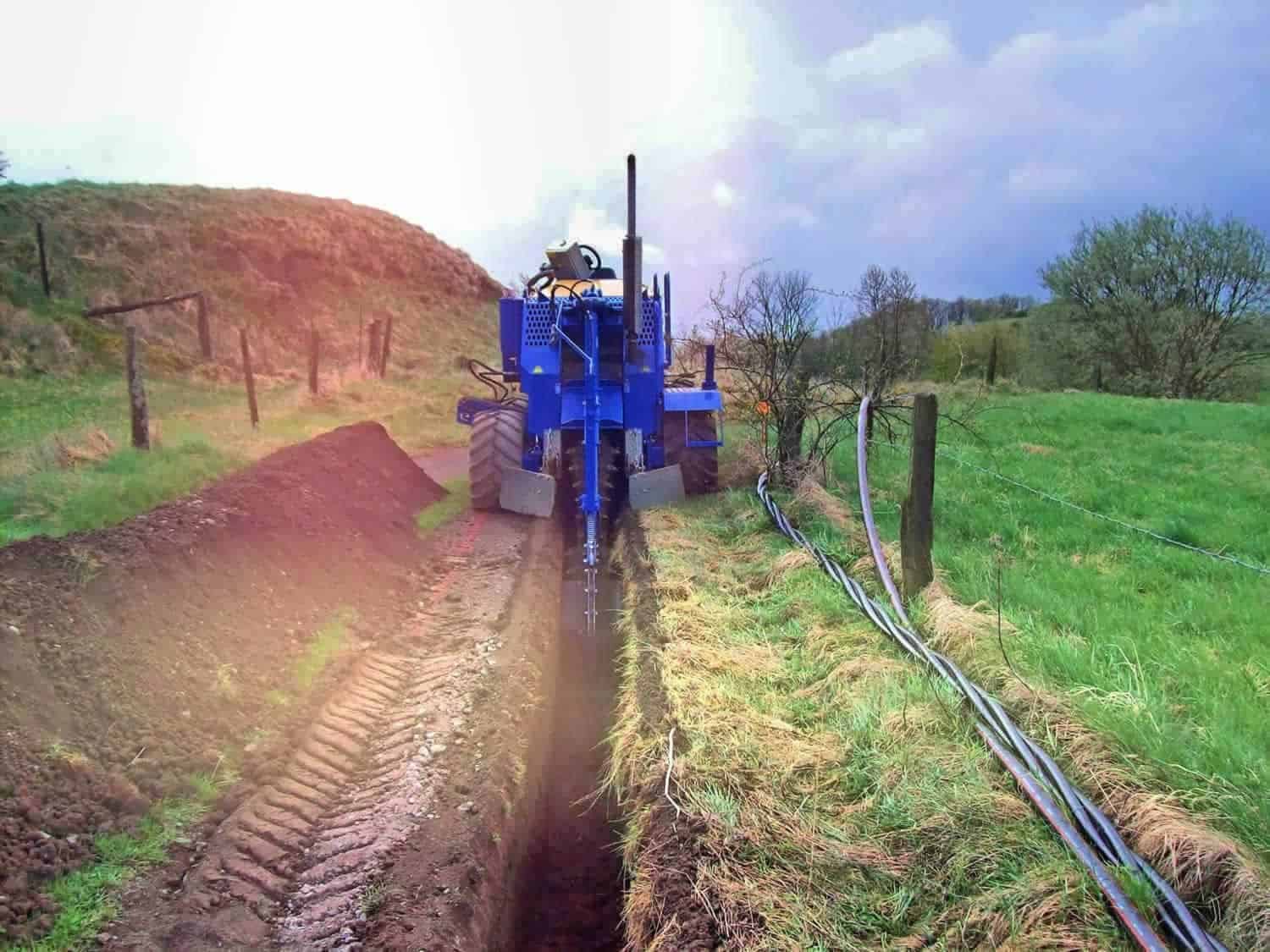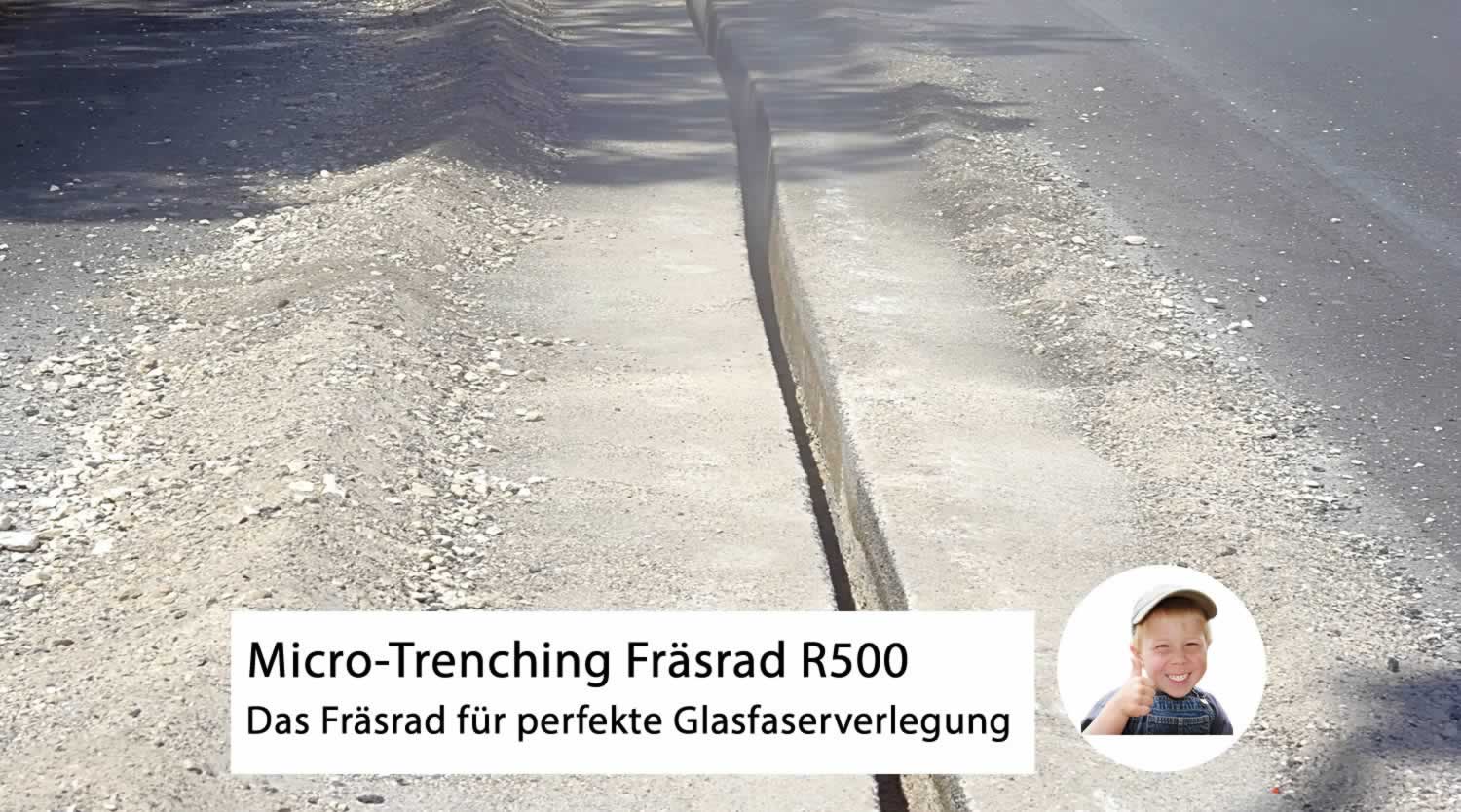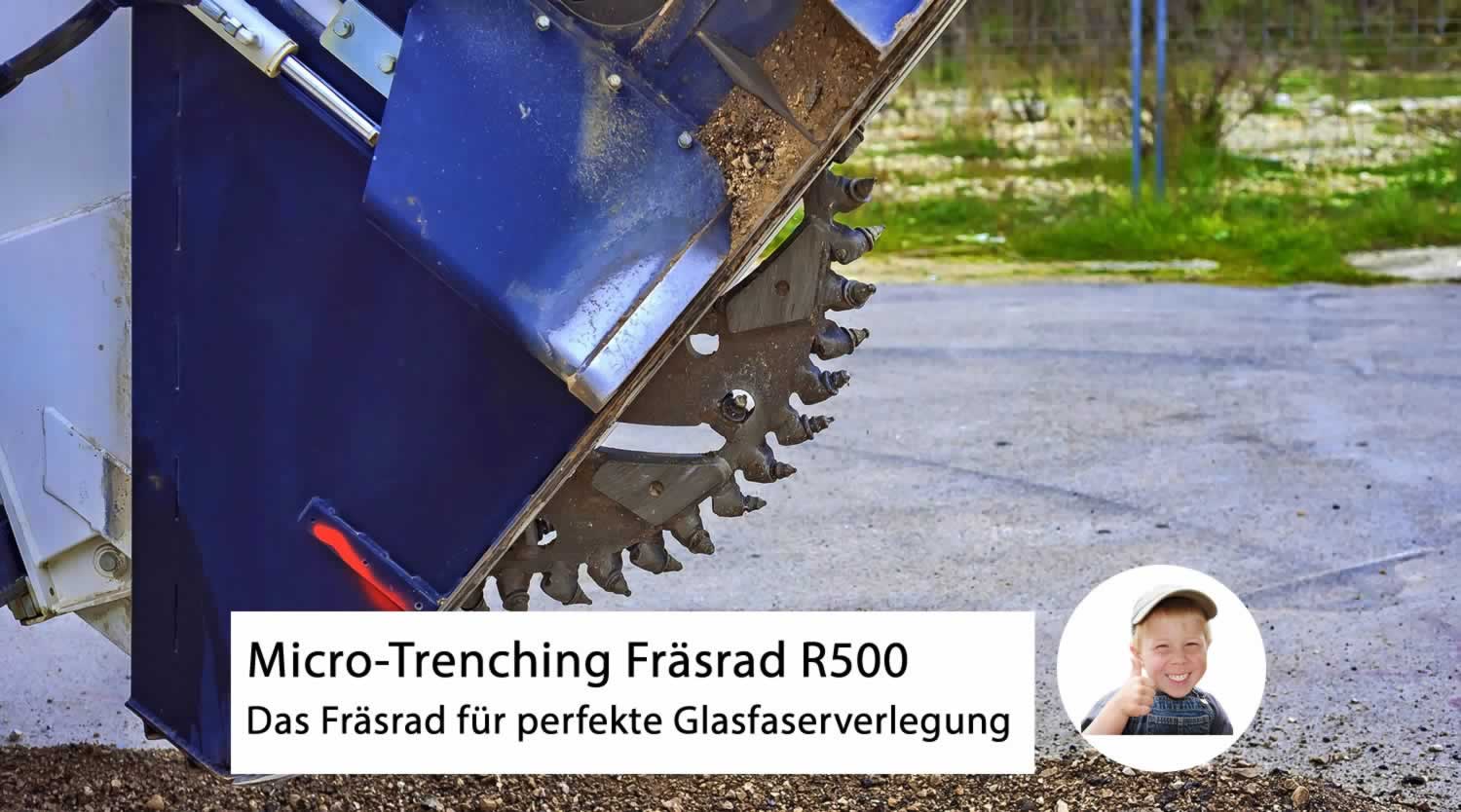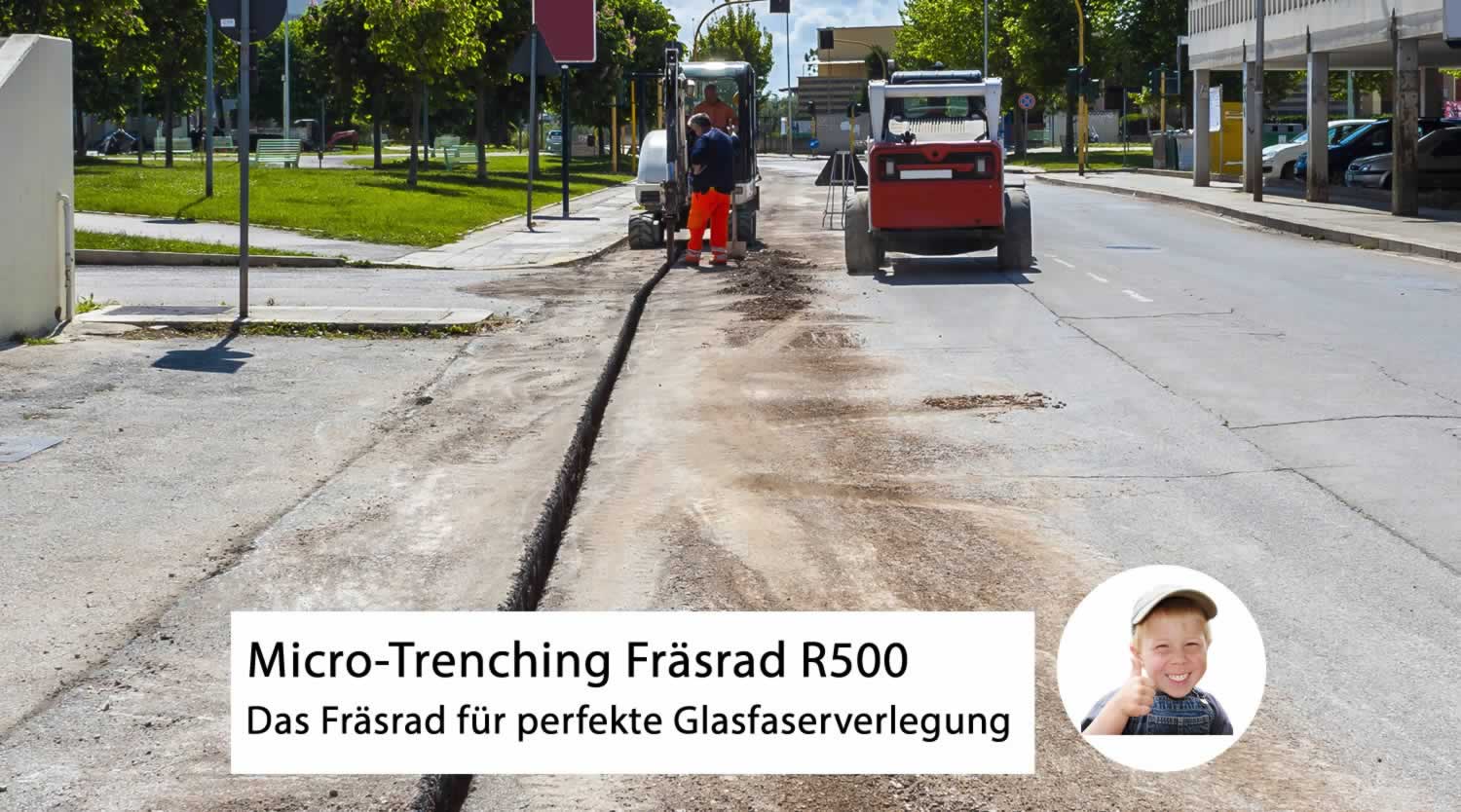 Time saving with a hopper
The optional hopper on the GM4 caterpillar saves time. The trench is milled and immediately filled with gravel in one step. At the same time, the drainage pipe can be laid using a reel with pipe guide. This ensures the optimum position of the drainage in the channel and three operations are carried out in one go. The sole scraper with plates and the dozer blade are also part of the complex scope of delivery.
Special advantages of the GM4 with crawler drive
For better manoeuvrability, the chassis camber was designed in such a way that it also compensates for rough uneven ground. Compared to the wheel drive, the tracked version of the trench digger has considerable advantages. These include in particular the even weight distribution of the machine. The 4,900 kilograms caused by one chain cause only minimal damage, which is why the crawler is indispensable for use on sports grounds, for example. This is why the GM4 crawler trencher is offered for hire with operating personnel.
The GM4 crawler trenchers can be used on tracks on slopes without any problems. The vertical adjustment provides additional stability. The intelligent tilt system compensates for lateral slopes of up to 12° using the powerful hydraulics. The adjustable operator's platform is advantageous for difficult applications. It can be moved to the left and far forward, giving the operator a direct view of the milling chain and trench.
As a crawler, the Grabenmeister GM 4 can cope with a wide range of requirements. The flexible machine can be set to milling depths of 600, 800, 1250 and 1500 mm. There is a choice of milling chains with blade carbon bits or as a mixed chain. Milling widths from 70 to a maximum of 450 mm are possible.
Additional equipment for the GM4 crawler trencher
In the basic configuration the GM4 is designed as an open ride-on unit. In this version you can also rent this trencher. The model is also available with four-wheel drive or powerful caterpillar drive. Optionally, a driver's cab can be mounted as weather protection. This is always equipped with a particularly comfortable driver's seat. If the mobile milling machine is purchased for year-round use, we recommend installing the heating system. Almost luxurious, but indispensable in hot countries, the trench master is also offered with an air conditioning system for the driver's cab.
Fräsbreite: 70 -450 mm
Frästiefe: 300 - 1.500 mm
Motor: Doosan Diesel, wassergekühlt, 60 KW, 79 PS
Fahrantrieb: Hydr. Raupenantrieb
Arbeits-/ Transportgeschwindigkeit: 0-6 km/h
Fräskettenantrieb: mech./hydr. über Kraftband
Lenkung: hydr. über Lenkrad
E-Anlage: 12V
Hydr. Anlage: Tandemregelpumpe Rexroth, Bedienpult (Ansteuerung aller Funktionen elektrisch), Zusätzlich hydr. über Zahnradpumpe
Reifenfahrwerk/Raupenlaufwerk: Stahlkette mit 300 mm gumm. Bodenplatten
Standardausrüstung: Standardförderband hydr. , hydr. 15 Grad, Grabenkantenräumer
Fräsbalkentiefe: -600, 850 1250, 1500 oder optional 3000 mm
Kettenbreiten: -70, 150, 200, 250, 300, 350, 400 und 450 mm (75 mm TLG.)
Carbonmeißelketten
Mischketten: (Meißel und Messer)
Sohlenräumer
Sohlenblech
Verfüllschnecke
Verladeförderband 3000 und 4000 mm hydr. für die direkte Verladung
Schlitzausrüstung
Haspel
Planierschild
Lasersystem manuell oder automatisch
Rohrverlegeschacht und Aufnahme für Rohre und Verfülltrichter

Gewicht: 5.000 kg
Länge: 5.800 mm
Breite: 2.000 mm
Höhe: 2.300 mm

(Gewicht und Maße sind abhängig von der jeweiligen Ausstattung)
---
If you have any questions, please use our contact form. We will deal with your request immediately and contact you. You can also call us at +49 (0) 591 - 76 314. We look forward to your visit!
Please note! You can also print this page, save it in PDF format or send it by e-mail.