PTO drive - easy laying of cables and pipes with the trencher GM 1 AS
The laying of cables and pipes plays an important role both in house building and in the agricultural use of land. Especially on very damp land, for example, it is important to lay drainage pipes to remove the existing moisture. Since such pipes are laid underground to protect them and prevent them from becoming an obstacle, trenches must first be cut. This is where many users opt for the reliable and powerful trencher GM 1 AS. It scores points with its easy handling and modern PTO drive.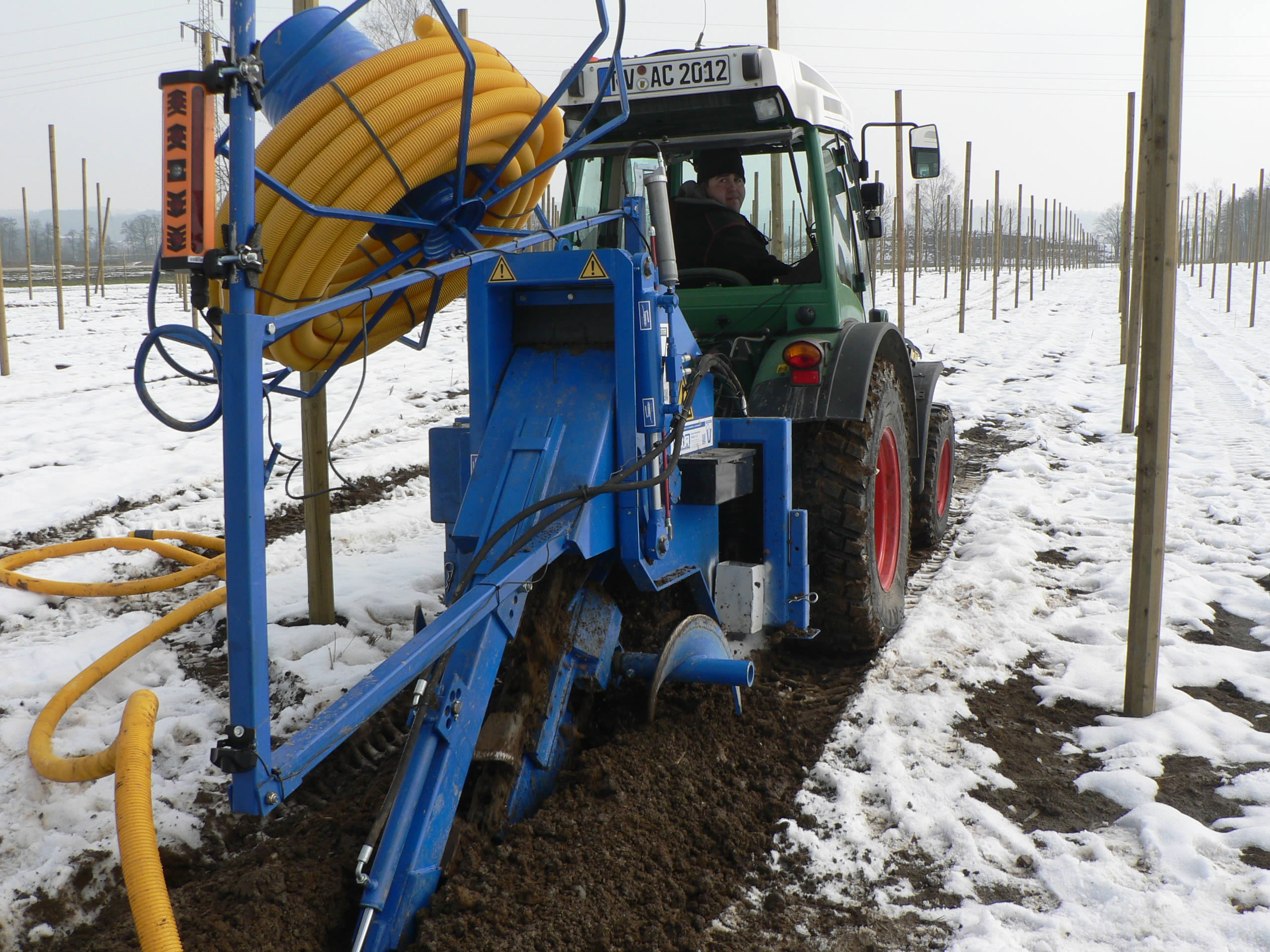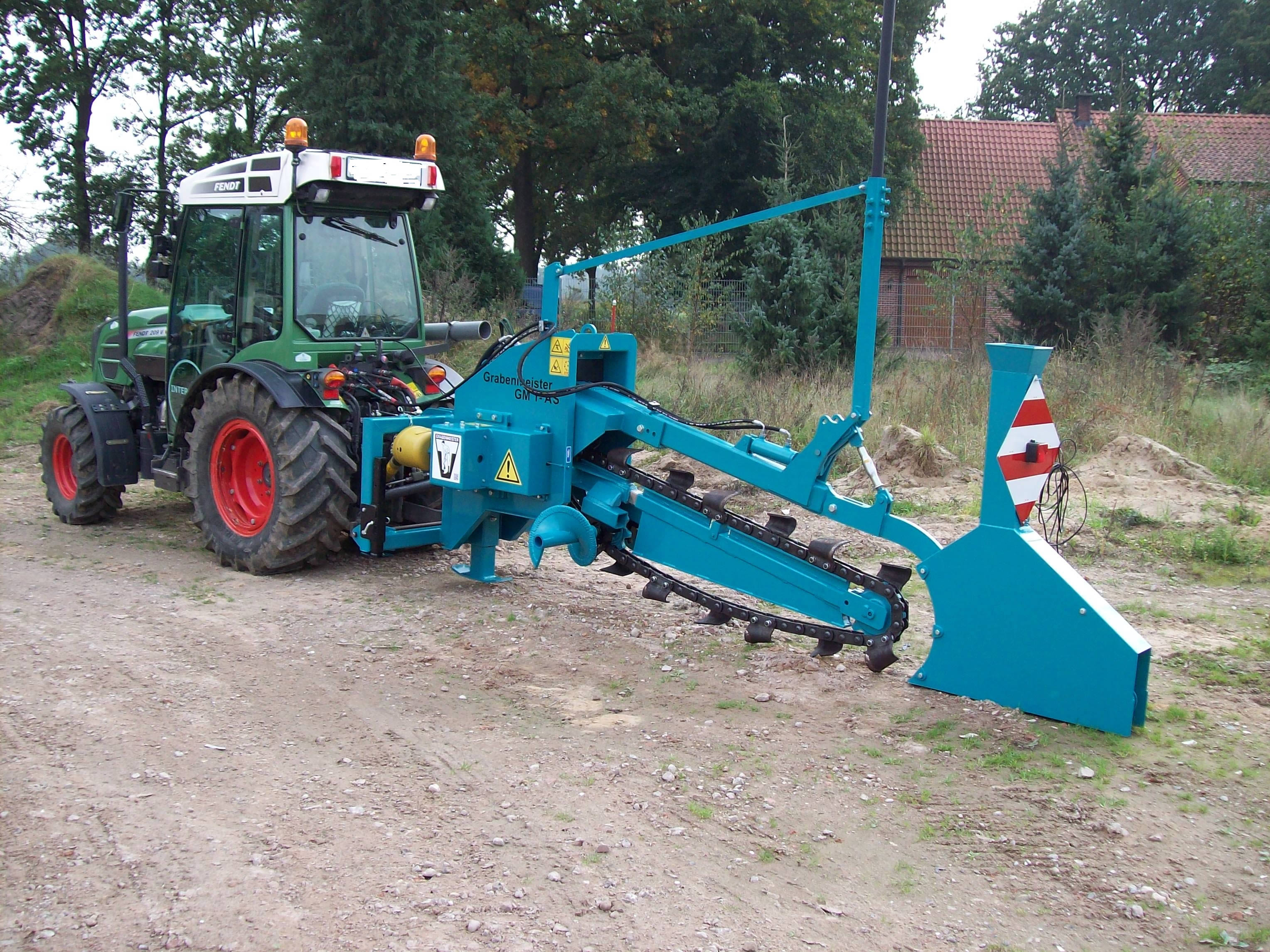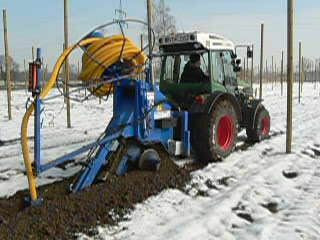 image-slider-with-thumbnail4.jpeg
image-slider-with-thumbnail4.jpeg
image-slider-with-thumbnail4.jpeg
image-slider-with-thumbnail3.jpeg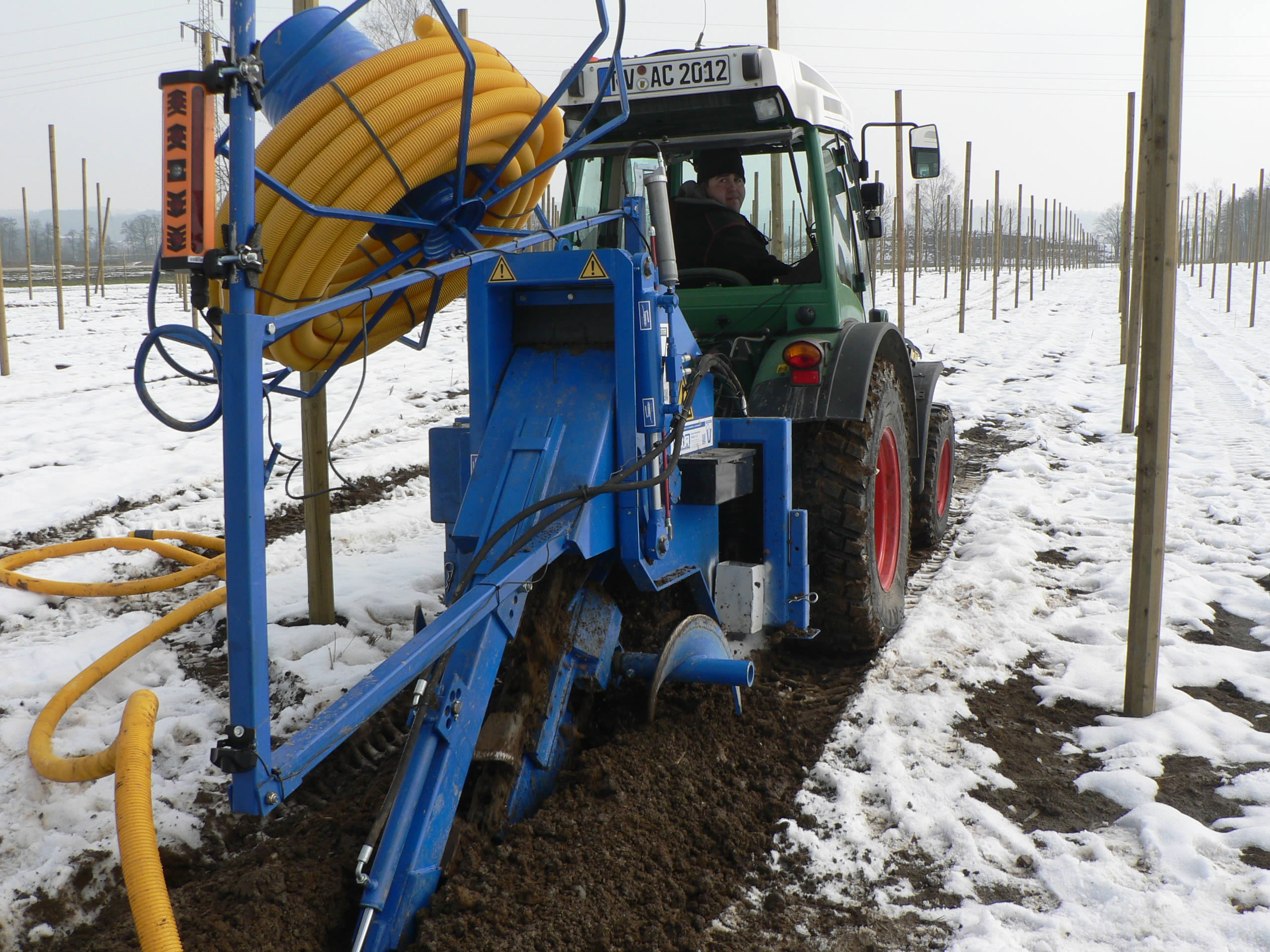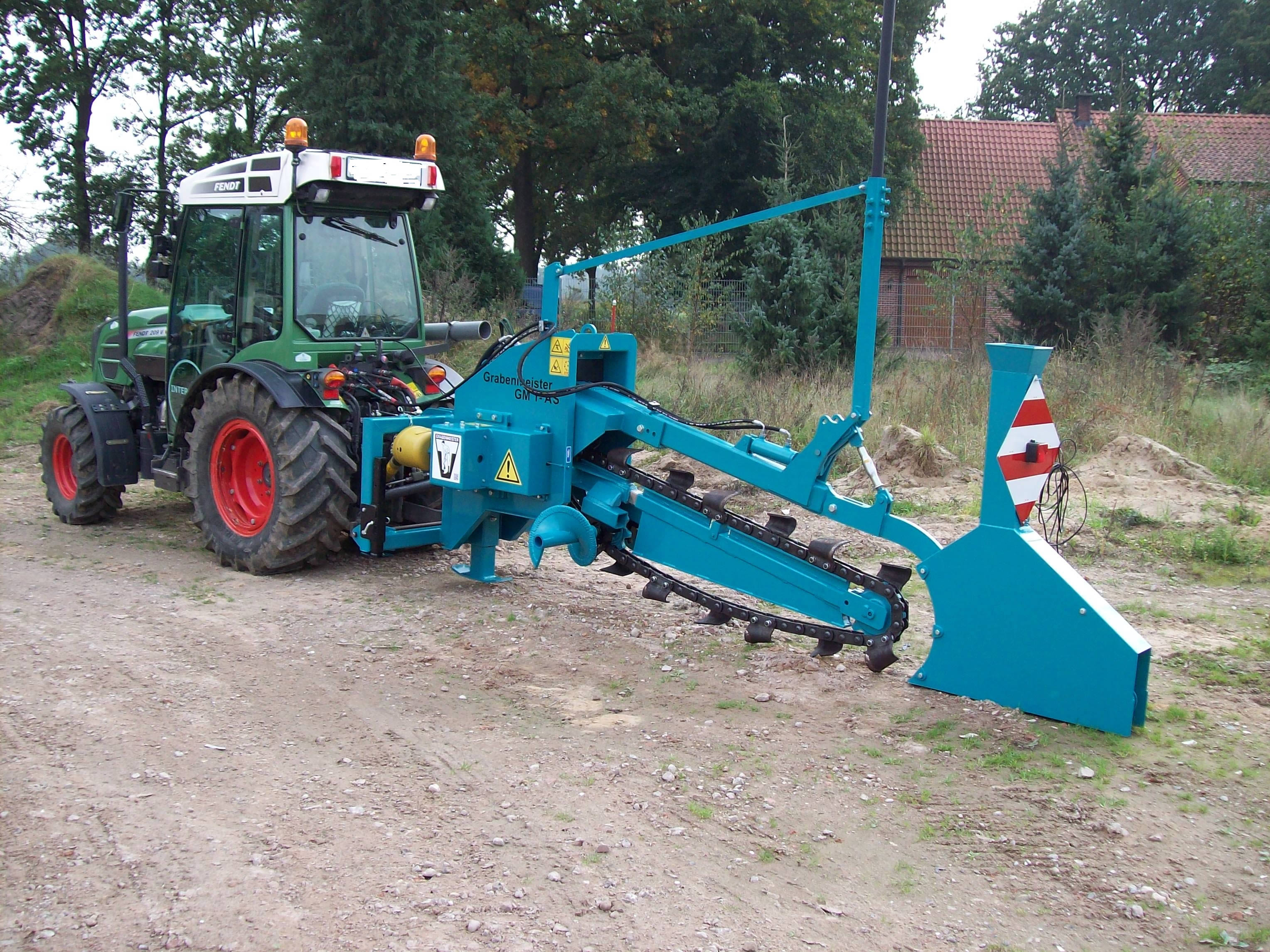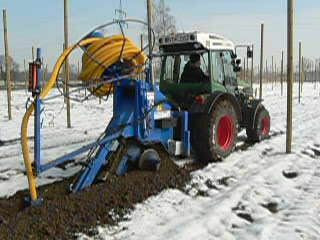 The GM 1 AS trencher with PTO drive at work
Basically, the trencher GM 1 AS only has to be mounted on a tractor and the work can begin. If the tractor is equipped with a three-point linkage at the rear, the trencher can be mounted in a few easy steps. A major advantage is the low weight of the tiller. This ensures that even small tractors can work with the machine and thus dig trenches. The work of the tiller with PTO drive is particularly impressive due to its speed and precision. An excavator can also be used to dig trenches, but this takes longer and the resulting trenches are not nearly as clean and precise.
In this context the trencher benefits from its two augers. These ensure that the excavated material is deposited on the left and right side of the trenches and does not slip back again. The machine achieves the high speed at work by means of a mechanical PTO drive. This delivers 540 rpm as standard, but models with 1,000 rpm are also available. In principle, the GM 1 AS trench digger has a net weight of 600 kg, but this weight can vary depending on the equipment used.
Important components and features of the trencher GM 1 AS
In addition to its PTO drive, the GM 1 AS trencher has numerous other characteristics and features to offer. Its versatility in use is particularly worth mentioning. For example, the tiller can work with a wide variety of digging trees with a cutter bar depth of 600, 850 or 1,200 millimetres. It is also possible to operate the tiller with different cutting blades between 70-300 millimetres. In this way, the trencher can be individually adapted to different working areas and is therefore suitable for a wide range of tasks and projects.
This high flexibility and individuality of the GM 1 AS trencher with PTO drive is also demonstrated by the various equipment variants available to the users. For example, a sole scraper with sole plate can be used. This is capable of adapting to the respective milling depth both mechanically and automatically. A manual or automatic laser system is also available and, on request, the milling machine can be equipped with a pipe-laying shaft with a holder for pipes.
The selection of the suitable trencher GM 1 AS
Many users choose an attachment trencher from Grabenmeister because they can rely on quality and durability. The machines are excellently manufactured and show very good performance even on difficult terrain. This saves time and effort when laying cables and pipes and is therefore very economical. Even long trenches can be excavated without great effort, equipped with the appropriate pipes and cables and then filled in again.
Another argument for such a trencher with PTO drive is the many years of experience of Grabenmeister. The trenchers of this company have already proven themselves in a large number of projects and always deliver excellent results. Specialists with a lot of know-how and experience are available for the selection and support interested parties in their search for the right trencher.
Prerequisite - carrier: tractor/Unimog hydrostatic or super creeper gear
Standard equipment: 2 screws
Milling beam depth: - 600, 850 and 1200 mm
Chain widths: - 70, 120, 150, 200, 250 and 300 mm (optionally in 44.45 or 75mm parts)
Carbon chisel chains
knife chains
Sole scraper with sole plate which mechanically/automatically adapts to the respective milling depth
2 augers (excavated material is deposited on the side)
Laser system manual or automatic
Pipe laying shaft and holder for pipes

Drive: mech. via PTO shaft (540 rpm
optional
1000 rpm)
Weight: 800 kg
length: 3.100 mm
width: 1.600 mm
height: 1.500 mm

(Weight and dimensions depend
on the respective equipment)
---
Please note! You can also print this page, save it in PDF format or send it by e-mail.