Since 1964 the label GRABENMEISTER stands for technically fastidious trenchers which are sold world-wide. Our experience of many years is your guarantor for know-how, service and reliable machines.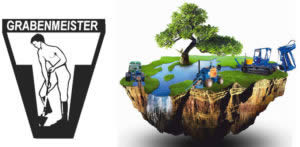 TRENCHER ATTACHMENT
SPECIAL TRENCHER
SELFPROPELLED DRAINPLOUGH
TRENCHER ATTACHMENT FOR EXCAVATOR
FILLING JUDGE
FILLING SNAILS
EARTH BACKFILLING BLADES
MOVING ACCESSORIES
CHISEL HOLDER

CONVEYOR
BUTTOM CLEANER
BEARINGS
Cutter chain (mixed or with blades)
STANDART CHISEL
CARBON CHAIN
CHAIN SPROCKET
And should you ever need an "exotic part", we are sure to find a solution!