GM 140-AFH – 600 - The 2 beam milling machine with 600mm trench width
GM 130 Pflug - Attachment drainage plough for depths up to 1.30 metres
GM 4 with all-wheel drive - Ideal for laying water and sewage pipes, as well as electrical lines
GM 140- AF- The all-purpose weapon for tractors
GM 6 ASR (self-propelled), ideal for milling under difficult conditions
GM 160 AF- The power pack as tractor attachment
GM 1800 P - Self-propelled drainage plough for cable and pipe laying
GM 300-H- For milling depths up to 300mm
The GM 1-AS/AF - trench milling machine for mounting on tractors with three-point linkage
GM 140 H- powerful trencher for hydraulic excavators
GM 160 AS- The ideal machine for pipe laying on the field
GM 4 with caterpillar drive for laying drainage pipes
Since 1964 the label GRABENMEISTER stands for technically fastidious trenchers which are sold world-wide. Our experience of many years is your guarantor for know-how, service and reliable machines.
Our products
All
Selfpropelled-trenchers
Special-machines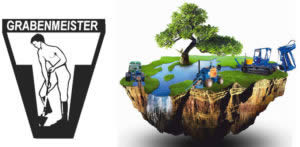 Self-propelled trenchers
Mounted trenchers (tractor)
Self-propelled drain ploughs
Hydraulic excavator attachments
Vibration plough attachment
filling hopper
backfilling screws
dozer blades
installation accessories
Carbon chisel and holder
knife chains
Standard chisel chains
Carbon chisel chains
mixing chains
conveyor belts
sole scraper
sprockets
encampments
hydraulic components
And should you ever need an "exotic part", we are sure to find a solution!