Trenchers for special work
Your desired device is not yet included? No problem! We build you your product that is optimally adapted to your work order. Be it special depth, even more power or even heavier, we provide you with the suitable device. Feel free to contact us and tell us about your project, we will provide you with expert assistance and advice on your suitable trencher.
Click and Go
You want to remain flexible and still enjoy the benefits of trenching. Then you've come to the right place. Our "click and go" model makes our machines incredibly versatile.
But what does that mean?
You can get our attachments as excavator and tractor attachments. So you get 2 in 1. For example, you want to use your GM 140 AFH 600, but can not provide your excavator right now, it's no problem. You can then simply attach this machine to your tractor. With our conversion kit you can adapt your machine to the necessary situation yourself, so that you can react as quickly as possible.
This system is available for the following models: GM 140 AFH-500, GM 140 AFH-600, GM 1 AF. These models can be converted for the other carrier, offering a high level of luxury in terms of flexibility.
To get a better insight into the performance and capabilities of the trencher working speed, we recommend you to watch our videos on
https://lingener-baumaschinen.de/videos/
. There you will find informative content and hands-on demonstrations that will show you how this machine can revolutionize your construction project. In addition to this, we invite you to visit our video channel on
YouTube.
There you will find more videos that provide detailed insights into the functions and use of the trencher working speed.

Trenchers for special work are: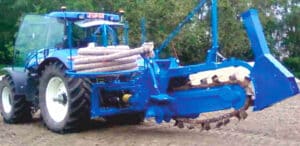 The GM 160 AS trencher from Lingener Baumaschinen is a powerful machine specially designed for use in laying drainage pipes. It is ideal for the