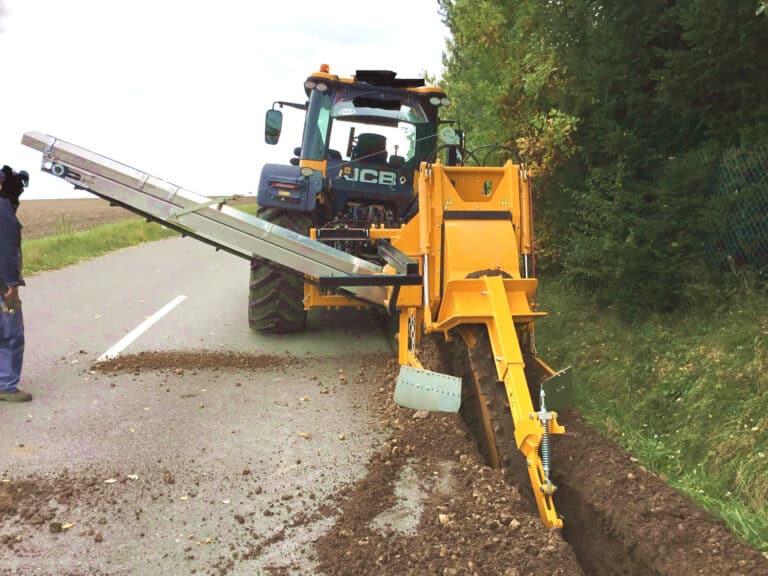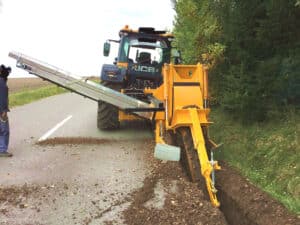 The GM 160 AF trencher from Lingener Baumaschinen is a powerful machine specially designed for use on a Unimog. It is ideal for the construction of drainage trenches, cable ducts and other ground works.
The GM 160 AF is mounted on the rear of the Unimog and is driven by the Unimog's PTO. The machine has a robust cutter head that can mill through hard soil layers to create wider and deeper trenches.
The machine is equipped with a hydraulic system that allows quick and easy adjustment of the milling depth. This allows the machine to be quickly adapted to different soil conditions.
The GM 160 AF is also equipped with a special protection system that prevents the cutter head from penetrating too deeply into the soil and damaging the blades. This is particularly important to ensure a long service life of the machine.
In addition, the GM 160 AF has a filling device that transports the excavated material directly into a trailer or container. This allows the excavation material to be removed quickly and easily.
The GM 160 AF is easy to operate and can be quickly adapted to the requirements of different projects. It is a robust and reliable machine that is ideal for use on a Unimog and offers great versatility.
The GM 160 AF trencher offers high efficiency and precision
The GM 160 AF trencher is a mounted trencher for Unimog. It is designed for tractors with three-point linkage and can be easily mounted on the rear of the tractor. With a weight of 2,800 kg, this trencher is comparatively light and can therefore be used with a wide range of tractors. Especially when laying drainage pipes, such a machine proves to be very useful and facilitates the work of users.
Practical pictures trencher GM 160 AF in various applications
| Milling width: | 150-450 mm |
| --- | --- |
| Milling depth: | max. 1600 mm |
| Prerequisite carrier: | Tractor/Unimog Hydrostatic or super creeper gearbox |
| Working/ Transport speed: | Carrier-dependent |
| Milling chain drive: | mech. via PTO (1000rpm) or hydr. motor (optional) |
| Optional equipment: | - Carbon chisels - Mixing chain (chisel+blade) - Sole scraper with sole plate, which mechanically/automatically adjusts to the respective milling depth. - Conveyor belt 3000 mm for the direct loading of the material - Laser system manual or automatic - pipe laying chute and pipe support |
| Standard equipment: | Standard conveyor belt |
| Milling beam depth: | 1250 and 1600 mm (laterally adjustable) |
| Chain width: | 150, 200, 250, 300, 350, 400 and 450 mm (100 mm pcs.) |
| Weight: | 2300 KG |
| Length: | 4400 mm |
| Width: | 1800 mm |
| Height: | 2000 mm |
You want more information?
The GM 160 AF trencher is characterized by its high accuracy
Precision is particularly important when milling trenches. Trenches must be cut as cleanly and accurately as possible to easily accommodate a drainage pipe. That is why a high-quality mounted tiller for Unimog is important. This is capable of milling both large trenches and many small trenches in a very short time.
Therefore, such machines are used both in private house construction and on professional construction sites. The GM 160 AF trencher has already proven itself in various construction projects and impresses with its strength and reliability.
The attachment tiller for Unimog achieves its high precision, among other things, due to the carbon chisel chains and mixing chains used. The chain widths vary between 150-450 millimeters and are characterized by excellent workmanship and high stability.
The milling beam depth is 1,250 or 1,600 millimeters. The sole scraper with sole plate, which can be adjusted mechanically or automatically to the respective milling depth, is another very useful tool. If required, a loading conveyor with a depth of 3,000 millimeters can be used for direct loading.
A mounted trencher for Unimog performs these tasks
An attachment cutter for Unimog is particularly suitable for laying cables, pipes and drainage pipes. They therefore play a crucial role in house and road construction, but are also used in agriculture. Here, for example, drainage pipes are laid in fields to prevent backwater and resulting damage.
Thanks to the trenches cleanly cut by the GM 160 AF trencher, the corresponding pipes can be easily inserted into the ground. The excavated material is laid with a loading belt that later backfilling is not a problem.
Depending on requirements, a milling rod depth of 1,250 millimeters or 1,600 millimeters is available. The bars can be used laterally offset, which noticeably facilitates work on obstacles. In addition, various track gauges from 150 to 450 millimeters can be used.
This provides the greatest possible degree of customization, so that the attachment tiller for Unimog can be used for numerous projects and for different substrates. A laser system for manual or automatic depth adjustment further contributes to this flexibility.
IMPORTANT REQUIREMENTS FOR THE USE OF AN ATTACHMENT TRENCHER FOR UNIMOG
In order to use the GM 160 AF trencher, it is important to have a tractor with a three-point linkage at the rear. Such tractors can work with different types of gearboxes.
The cultivator for the Unimog can work both with a hydrostatic drive and with a super creeper. In addition, before selecting it is necessary to decide how to drive the cultivator for the Unimog. For example, a PTO or hydraulic motor can be selected.
Individual adjustments are possible at any time with the GM 160 AF trencher. However, it should be noted that an increase in accessories is always accompanied by an increase in the weight of the tiller for the Unimog. For example, the pipe laying shaft is a very popular accessory.
This makes laying drainage pipes in the ground child's play. When selecting a machine, the intended use of the machine should always be kept in mind in order to select and use the appropriate equipment.
Advantages of the trencher GM 160 AF for the Unimog
The GM 160 AF trencher is an attachment specially designed for the Unimog and offers many advantages. Here are some of the advantages:
Versatility: The GM 160 AF is a very versatile trencher and can be used for a variety of tasks, such as laying cables, creating drainage ditches or laying water pipes.
Efficiency: Thanks to the high working speed and the power of the Unimog engine, the GM 160 AF is very efficient and can work large areas in a short time.
Precision: The GM 160 AF is very precise and can dig trenches up to 1.60 meters deep and 30 centimeters wide.
Flexibility: The GM 160 AF is very flexible and can be adapted to different soil conditions by adjusting the milling depth and width.
Comfort: The GM 160 AF is very easy to operate and offers the operator a high level of comfort, as all controls can be reached from the operator's seat.
Durability: The GM 160 AF is very robust and durable, making it a valuable investment for any Unimog owner.
Overall, the GM 160 AF trencher is a very useful attachment for the Unimog that offers many advantages and can help increase the efficiency and performance of the Unimog.
Suitable trencher for the following applications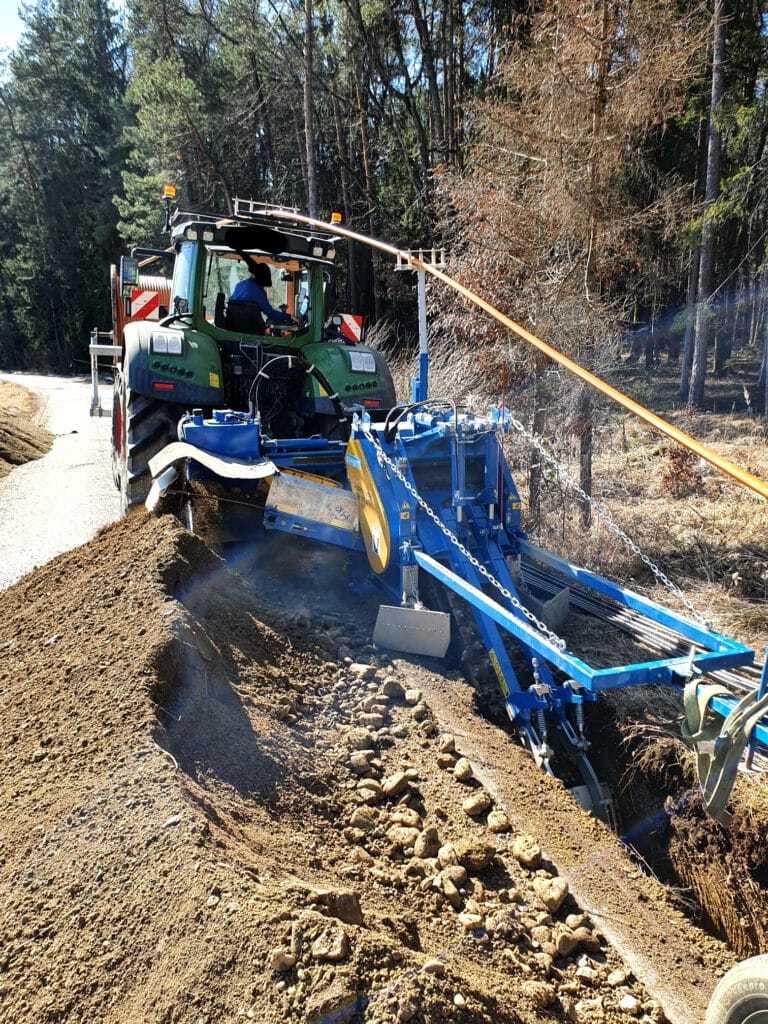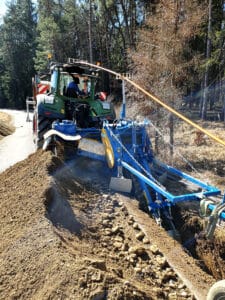 Trenchers for cable and wire laying can be used to cut trenches for laying cables. Here are some steps you