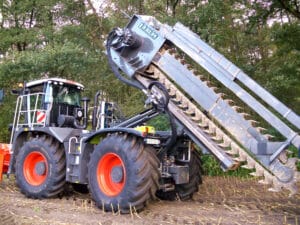 Trencher GM 450 H for civil engineering
The GM 450-H trencher from Lingener Baumaschinen is a powerful machine specially designed for use in civil engineering. It is ideal for the construction of utility lines such as gas, water, electricity and telecommunications lines, as well as for sewage and drainage systems.
The GM 450-H is equipped with a powerful engine and hydraulic drive, which allow it to work in very hard soils and to mill deep trenches up to a depth of 2.5 meters. The machine also features automatic level compensation, which ensures precise depth adjustment and uniform milling depth.
In addition, the GM 450 H trencher for civil engineering is equipped with various cutters and tools that can be adapted to different requirements. For example, there are special cutters for laying fiber optic cables or for cutting roots and stones. The machine is also equipped with a hydraulic side shift and a hydraulic boom arm to precisely position the cutter.
The GM 450-H also offers a variety of options and accessories, including a laser leveling system and remote control, to give operators even more control and flexibility.
In summary, the GM 450 H trencher for civil engineering is a powerful and reliable trencher optimized for civil engineering applications. With its powerful engine, hydraulic drive and automatic level compensation, it can work even in very hard soils and mill deep trenches. Its flexibility and many options and accessories make it a versatile choice for jobsite use.
Practical pictures trencher GM 450 H in various applications.
| Milling width: | 200-450 mm |
| --- | --- |
| Milling depth: | max. 4500 mm |
| Engine: | |
| Traction drive: | |
| Working/ Transport speed: | 0-6 km/h |
| Milling chain drive: | Hydraulic via PTO |
| Weight: | 11000 KG |
| Length: | 5000 mm |
| Wide: | 2500 mm |
| Height: | 3100 mm |
You want more information?
Civil engineering with the GM 450-H deep milling machine
The GM 450-H deep milling machine is the deepest milling machine produced by Lingener Baumaschinen to date. With a depth of 4500mm, this machine is ideal for civil engineering and capable of handling even the deepest construction projects. The machine shown was attached to a Claas Xerion with the help of a subframe.
Technical data of the deep milling machine GM 450-H for civil engineering
The GM 450-H depth milling machine can reach depths of up to 4500mm, as already mentioned. For milling, the hydraulic subframe is moved from the horizontal rest position to the vertical position. In this process, the milling tree is moved hydraulically into the ground via a guide carriage. The tiller is equipped with a bucket chain and thus transports the tilled soil upwards.
The excavated material is thrown out to the sides via a baffle plate so that no earth material gets in the way or falls back into the trench. Both the milling beam and the laying shaft are designed to be dismountable, so that other milling depths can also be realized during civil engineering, if desired. As this machine is extremely powerfully built, it weighs in at 10.7 tons. The trench width can be up to 400mm.
The 450-H deep milling machine as a civil engineering attachment
On the pictures you can see that the GM 450-H is always attached to a Claas Xerion. However, this is not a must for the use of the machine. As soon as the carrier has sufficient dead weight and the required hydraulic power can be called up, the machine can also be used on other carriers.
EXPERIENCE WITH DEEP MILLING MACHINES FOR CIVIL ENGINEERING
through our years of experience in trenching, we can offer you an ideal machine as well as advice. Also in the field of deep milling and civil engineering, we have sold more and more machines over the years and also developed them constantly, so that our machines are now milling all over the world.
The advantages of the GM 450-H trencher in civil engineering applications
The GM 450-H trencher offers several advantages for use in civil engineering:
Efficiency: The GM 450-H trencher can quickly and efficiently cut trenches in various soil types. The high working speed allows the machine to move large amounts of soil in a short time, which reduces working time and costs.
Accuracy: The GM 450-H is able to cut precise trenches of various widths and depths, which is particularly important when laying pipelines, cables or other infrastructure. The depth and width of the trench can be adjusted as needed.
Flexibility: The trencher can be used in different soil types, such as sandy or clayey soil. It can also be used on uneven terrain.
Safety: The GM 450-H trencher has an automatic overload protection system that minimizes the risk of accidents. There are also special safety devices that ensure the protection of the operator during work.
Environmental friendliness: The GM 450-H is equipped with a powerful and low-emission engine that reduces environmental impact.
Overall, the GM 450-H trencher offers a fast, accurate and flexible solution for civil engineering work that is safe and environmentally friendly.
Suitable trencher for the following applications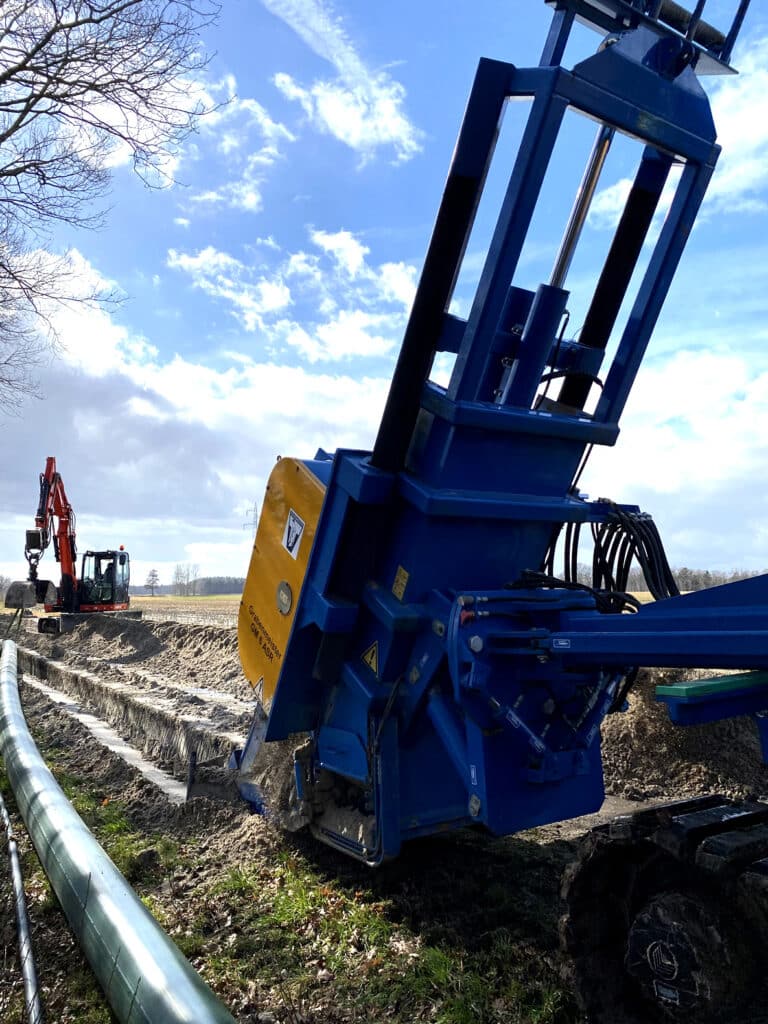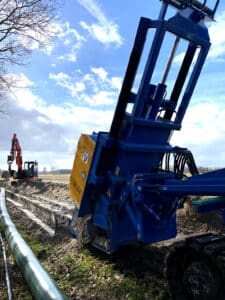 Gas and water pipelines are the cornerstone of a functioning infrastructure. The supply of vital substances, such as water and