A trencher is also beneficial in the field of telecommunications, offering a number of advantages, such as:
Fast trenching: A trencher can excavate large amounts of soil in a short time, which helps speed up the installation of telecommunications lines or cables. Rapid trenching can also facilitate the installation of pipelines in urban areas.
Less damage to surrounding terrain: a trencher causes less damage to surrounding trees, plants and other terrain features than other excavation methods such as hand digging trenches. The machine is also capable of working in tighter areas, reducing the risk of damage to adjacent buildings or other structures.
Precision work: A trencher is capable of digging trenches with high precision. This is especially important when installing telecommunication lines or cables, where trenches must be excavated to specific depths and widths. A trencher can also help reduce the need for rework.
Cost savings: using a trencher can also result in cost savings. Since the machine works fast and does precision work, it can save time and labor cost. This can help reduce overall costs, especially on large projects.
Examples of the use of a trencher in telecommunications could be:
Laying fiber optic cables for high-speed Internet connections
Installation of telecommunication lines for mobile phone masts
Laying cables for cable television
Excavation of trenches for the installation of telecommunication infrastructures such as switch boxes.
Laying cables for alarm systems or surveillance cameras.
Suitable trenchers for the construction of construction of telecommunications lines are: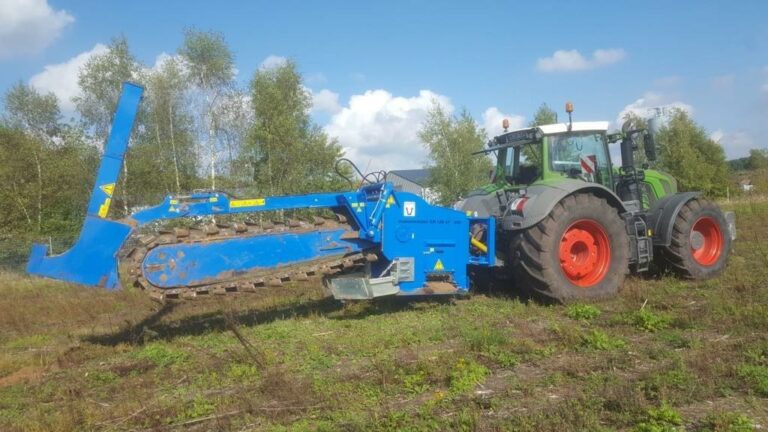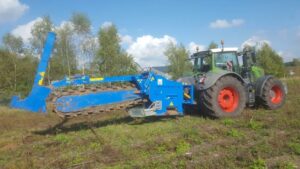 Cable laying with the GM 180 AF The GM 180 AF trencher from Lingener Baumaschinen is a specialized machine for cable laying. It can effectively