A trencher can be used in track construction to cut trenches along the rails where cables, pipes or drainage systems can be laid. Here are some steps you should follow to use a trencher in track construction:
Make sure you have the appropriate permits and authorizations to work in the track area.
Check the terrain and mark the place where you want to mill the trench.
Make sure that the trencher is suitable for use in the track area and has the required rail clearers.
Drive the trencher onto the rails and position it to reach the desired area.
Start the trencher and begin milling the trench along the rails.
Make sure that the depth of the trench is uniform and that the trench is straight and parallel to the rails.
Monitor the work of the trencher and ensure that it is not damaged or that the rails are not damaged.
Once the trench is milled, you can proceed with the installation of cables, pipes or drainage systems.
Ensure that the trench is properly sealed and the rails are returned to their original position to ensure track safety.
It is important that you take all necessary safety precautions when using a trencher in track construction and ensure that you have the necessary knowledge and skills to operate the machine safely and effectively.Advantages of the trencher
Here are some advantages of using trenchers for track construction:
Speed: Trenchers can perform track work quickly and efficiently by leveling the terrain and removing unwanted obstacles such as rocks, roots and other materials.
Precision: The adjustment of the trencher allows the depth and width of the trench to be precisely controlled, which is important for effective track construction.
Flexibility: Trenchers can be used in a variety of soil types, making them a versatile option for track construction.
Less physical effort: The use of trenchers reduces the physical effort required to manually remove obstacles and prepare the job site, resulting in a lower risk of injury.
Less damage: using trenchers minimizes damage to the surrounding landscape and plants because the trencher is precise and controlled.
Reusable material: The material excavated by the trencher can be reused for other purposes, reducing waste.
Overall, the use of trenchers for track construction provides a fast, efficient and precise method of leveling the terrain and removing obstructions. This saves time and money and minimizes damage to the surrounding landscape and plants.
Suitable trenchers for track construction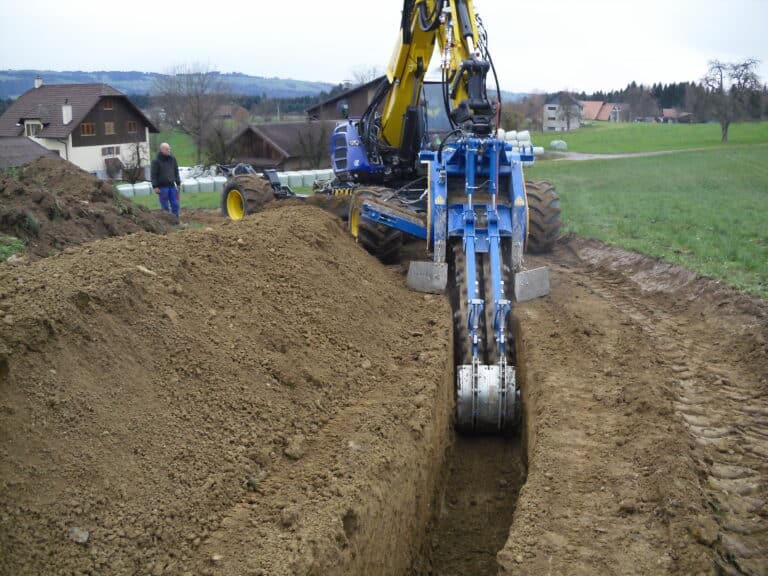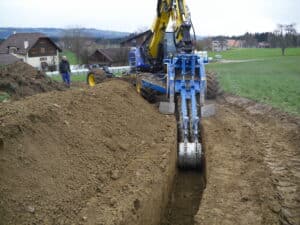 The GM 140 AFH-600 trencher from Lingener Baumaschinen is a powerful machine specially designed for use in pipeline construction. It is ideal for the construction
The GM 140 H trencher from Lingener Baumaschinen is a powerful excavator-mounted trencher designed for use on excavators. It is particularly suitable for use on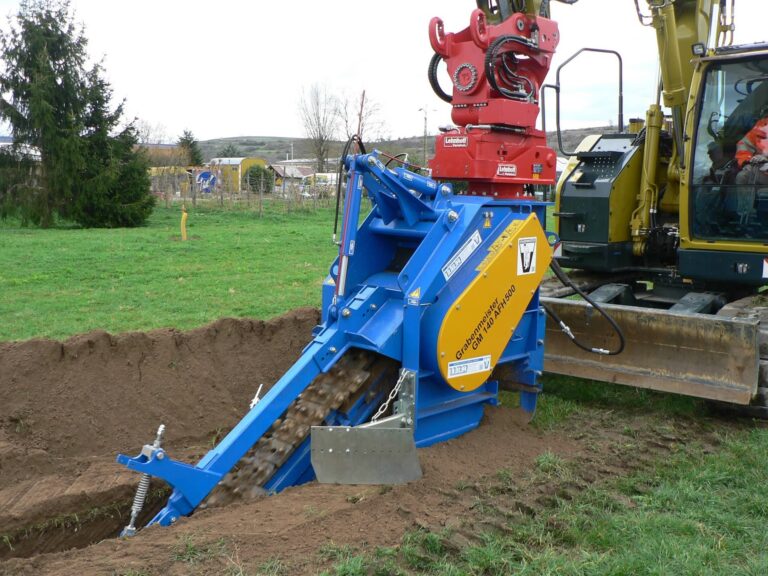 Facebook Twitter LinkedIn The GM 140 AFH-500 trencher from Lingener Baumaschinen is a powerful machine designed specifically for use as an excavator trencher. It is