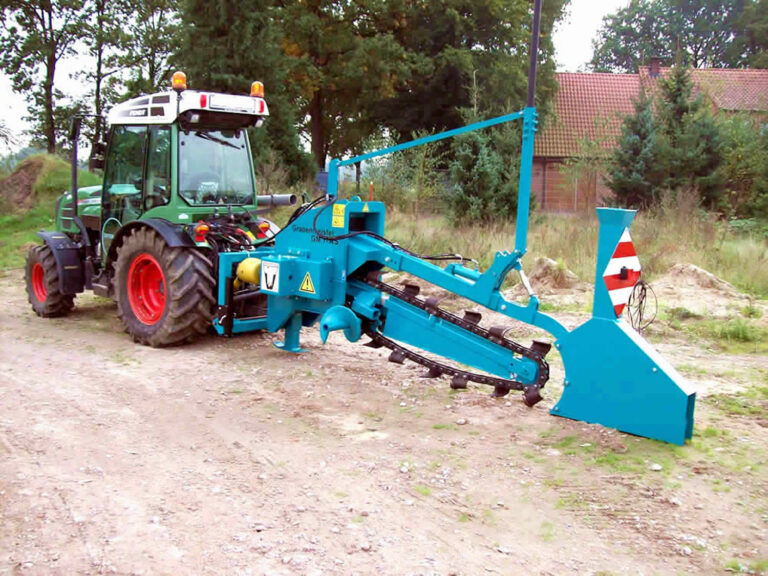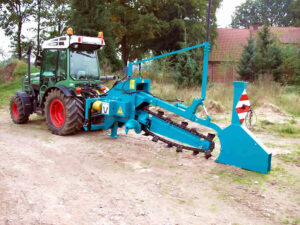 The GM 1 AS trencher from Lingener Baumaschinen is a powerful machine specially designed for laying underground cables. It is robust and reliable, making it ideal for use on different types of soil.
The machine is equipped with a powerful diesel engine, which provides sufficient power so that even through hard soil layers can be milled. The milling head is automatically controlled to ensure precise and efficient work. The GM 1 AS is also equipped with a hydraulic system that allows quick and easy adjustment of the milling depth. This is especially useful when soil conditions vary or when different sizes of cable need to be installed.Ideal for underground cable installation.
The machine has special equipment for laying underground cables. There is a special guide device for the cable, which prevents the cable from being damaged or accidentally buried in the ground.
The GM 1 AS is also equipped with a filling device so that the excavated material can be transported directly into a trailer or container. This allows the excavation material to be removed quickly and easily.
Overall, the GM 1 AS trencher from Lingener Baumaschinen is a robust and reliable machine that is ideal for laying underground cables. It is easy to use and can be quickly customized to meet the needs of different construction projects.
Practical pictures of the GM 1 AS trencher in various applications.
| Milling width: | 70-300 mm |
| --- | --- |
| Milling depth: | max. 1200 mm |
| Prerequisite carrier device: | Tractor/Unimog Hydrostatic or super crawler transmission |
| Working/ Transport speed: | Carrier-dependent |
| Friction chain drive: | mech. via PTO (540 rpm optionally 1000 rpm) |
| Optional extras: | - Carbon chisels - knife chain - sole scraper with sole plate, which mechanically/automatically adjusts to the respective moving depth - 2 augers (excavated material is deposited laterally) - Laser system manual or automatic - Pipe-laying shaft and holder for pipes |
| Standard equipment: | Two snails |
| Depth of frieze: | 600, 850 or 1200 mm |
| Chain width: | 70, 120, 150, 200, 250 and 300 mm (optionally in 44.45 or 75 mm dia.) |
| Weight: | 700 Kg |
| Length: | 3100 mm |
| Width: | 1600 mm |
| Height: | 1500 mm |
PTO drive – with the trencher GM 1 AS Laying underground cables and pipes made easy
The laying of underground cables and pipes plays an important role both in the construction of houses and in the agricultural use of land. Especially for very damp properties, for example, it is important to install drainage pipes so that the existing moisture is removed. Since such pipes are laid underground, so that they are protected and do not become an obstacle, it is first necessary to dig trenches. Here, many users opt for the reliable and powerful GM 1 AS trencher. This one scores with easy handling and its modern PTO drive.
The GM 1 AS trencher with PTO drive for laying underground cables
Basically, the GM 1 AS trencher only needs to be mounted on a tractor and the work can begin. If the tractor has a three-point linkage at the rear, the attachment trencher can be attached in a few simple steps. A major advantage here is the low dead weight of the tiller. This ensures that even small tractors can work with the device and dig trenches with it. The work of the PTO-driven milling machine is particularly impressive here due to its speed and precision when laying underground cables. An excavator can also be used to dig trenches, but on the one hand this takes longer and on the other hand the resulting trenches are not nearly as clean and precise.
In this context, the tiller benefits from its two augers. These ensure that the excavated material is deposited on the left and right sides of the trenches and does not slide back again. The high speed at work the device achieves by means of a mechanical PTO drive. This delivers 540 rpm as standard, but models with 1,000 rpm are also available. Basically, the GM 1 AS trencher has a tare weight of 600 kg, but this weight may vary depending on the equipment used.
Important components and features of the GM 1 AS trencher for laying underground cables
In addition to its PTO drive, however, the GM 1 AS trencher has numerous other properties and features to offer. Particularly noteworthy is their versatility in use. For example, the tiller can work with a wide variety of grave trees, with a tiller bar depth of 600, 850 or 1,200 millimeters. Likewise, it is possible to operate the milling machine with different milling knives between 70-300 millimeters. In this way, the trencher can be individually adapted to different work areas and is thus suitable for a wide range of tasks and projects.
This high degree of flexibility and individuality of the GM 1 AS trencher with PTO drive is further demonstrated by the various equipment options available to users. For example, a sole scraper with sole plate can be used. This is capable of adapting both mechanically and automatically to the respective milling depth. Likewise, a manual or automatic laser system is available and, on request, the cutter can be equipped with a pipe laying shaft with a receptacle for pipes, making the laying of underground cables even easier.
Choosing the right trencher GM 1 AS
Many users choose an attachment trencher from Grabenmeister because they can rely on quality and durability with such a device. The machines are excellently finished and perform very well even on difficult terrain. This saves time and energy when laying underground cables and pipes and is therefore very economical. Even long trenches can be dug, fitted with the appropriate pipes and cables and then filled in again without much effort.
Another argument in favor of such a tiller with PTO drive is the many years of experience of Grabenmeister. The milling machines of this company have already proven themselves in a large number of projects and always deliver excellent results. During the selection process, experts with a great deal of know-how and experience are on hand to help interested parties find the right trencher.
Advantages of the GM 1 AS trencher for laying underground cables
The trencher GM 1 AS is a machine specially designed for laying underground cables. Here are some advantages that it offers:
Precision: The GM 1 AS allows to mill a narrow and precise trench that exactly matches the width of the cable to be laid. This ensures clean laying of underground cables and minimizes the risk of damage to the cable.
Speed: By using the GM 1 AS, underground cables can be laid quickly and efficiently. This saves time and labor and can reduce overall costs.
Versatility: The GM 1 AS can be used on various soil types, including sand, clay and gravel. It can also be used in narrow and hard-to-reach areas where conventional trenchers cannot be used.
Ease of use: The GM 1 AS is easy to operate and requires no special knowledge or skills. This makes it possible for less experienced employees to operate the machine.
Environmentally friendly: Compared to conventional trenchers, the GM 1 AS causes less damage to the soil and minimizes the impact on the environment
To get a better insight into the performance and capabilities of the trencher working speed, we recommend you to watch our videos on https://lingener-baumaschinen.de/videos/. There you will find informative content and hands-on demonstrations that will show you how this machine can revolutionize your construction project. In addition to this, we invite you to visit our video channel on YouTube. There you will find more videos that provide detailed insights into the functions and use of the trencher working speed.
Suitable trencher for the following applications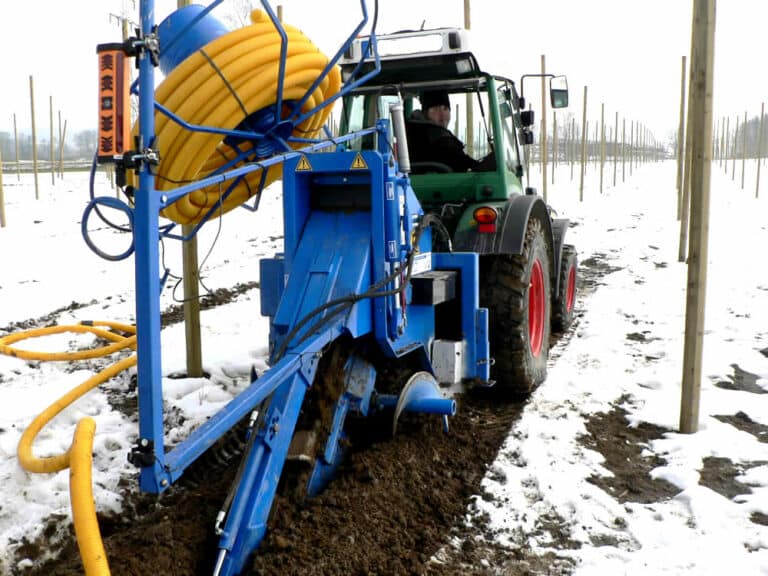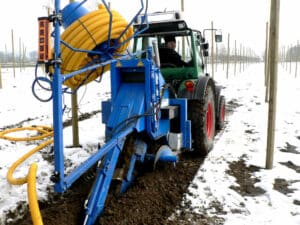 Agriculture has been one of our biggest fields of application for ages. Already many farmers work with our machines and