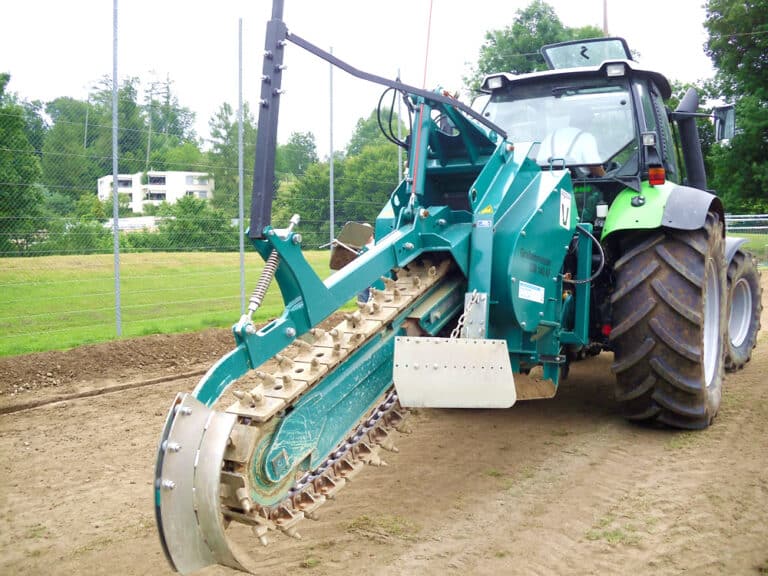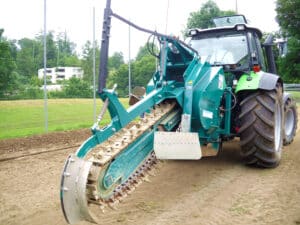 The GM 140 AF trencher from Lingener Baumaschinen is a powerful machine specially designed for use on a tractor. It is ideal for use in agriculture and horticulture to cut drainage ditches or other trenches.
The GM 140 AF can be mounted on tractors and is operated by the tractor hydraulics. The machine has a robust cutter head that can mill through hard soil layers to create wider and deeper trenches.
The machine is equipped with a hydraulic system that allows quick and easy adjustment of the milling depth. This allows the machine to be quickly adapted to different soil conditions.
The GM 140 AF is also equipped with a special protection system that prevents the cutter head from penetrating too deeply into the soil and damaging the blades. This is particularly important to ensure a long service life of the machine.
In addition, the GM 140 AF has a filling device that transports the excavated material directly into a trailer or container. This allows the excavation material to be removed quickly and easily.
Overall, the GM 140 AF trencher from Lingener Baumaschinen is a robust and reliable machine that is ideal for use in agriculture and horticulture. It is easy to use and can be quickly adapted to the requirements of different projects.
Practical pictures trencher GM 140 AF for tractors at different applications
Video GM 140 AF for tractors
Data sheet 140 AF for tractors
| Milling width: | 70-450 mm |
| --- | --- |
| Milling depth: | max. 1500 mm |
| Prerequisite device: | Tractor/Unimog Hydrostatic or super creeper gearbox |
| Working/ Transport speed: | Carrier dependent |
| Friction chain drive: | mech. via PTO (1000 rpm) |
| Optional equipment: | - Carbon chisels - Mixing chain (chisel+blade) - Sole scraper with sole plate, which mechanically/automatically adjusts to the respective milling depth. - Conveyor belt 3000 mm for the direct loading of the material - Laser system manual or automatic - pipe laying chute and pipe support |
| Standard equipment: | Standard conveyor belt |
| Milling beam depth: | 600, 850, 1250 and 1500 mm (laterally adjustable) |
| Chain width: | 70, 150, 200, 250, 300, 350, 400 and 450 mm ( 75 mm pcs.) |
| weight: | 1800 KG |
| Length: | 3700 mm |
| wide: | 1900 mm |
| height: | 1800 mm |
You want more information?
With the GM 140 AF trencher for tractors, drainage pipe laying succeeds
This trencher for tractors cleanly and precisely digs the trenches, which are important for laying drainage pipes. In agriculture, but also in basement construction, drainage pipe laying plays a crucial role. Such pipes are there to drain surface water so that it does not interfere with the respective projects. In order for such pipes to reliably perform their service, it is important to install them properly and professionally. The use of a GM 140 AF is particularly suitable for this purpose.
Prepare the drainage pipe laying with the trencher GM 140 AF
A trencher for tractors is a helpful tool when laying pipes or cables. The trencher GM 140 AF is able to cut very precise and clean trenches, ideal for drainage pipes. Already during milling, the device prepares the backfill. In fact, the attachment trencher transports the excavated material directly to the side of the trench by means of two augers. Once the pipes have been laid, the trench can be effortlessly backfilled.
For such work, the GM 140 AF trencher stands out for its high flexibility. For example, it is possible to offset the milling beams laterally by up to 600 millimeters. The trencher is then still pulled by the tractor, but does not create the trench directly behind it. In this way it is possible to avoid obstacles and slopes during work and to achieve the most precise digging.
Various equipment features of the trencher GM 140 AF
Different tools and machines are needed for different projects. For example, while a milling beam depth of 600 millimeters is sufficient for some projects, a milling beam depth of 1,500 millimeters is required for other tasks. Exactly this spectrum covers a trencher for tractors. Depending on the objective, different digging trees are used in the work and a selection of 70-400 millimeter cutter blades is also available for drainage pipe laying.
The GM 140 AF trencher has a mechanical PTO drive that operates at 1,000 rpm. The tiller's own weight is 1,300 kg. When selecting, make sure that the respective tractor must be able to move this weight. Also, it should be borne in mind that the weight of the trencher for tractors may vary, depending on what equipment elements are used.
In fact, on request, the milling machine can be equipped with a sole scraper with sole plate that automatically or mechanically adjusts to the milling depth. It is also possible to choose a model with an edge scraper. Some milling machines have a manual or automatic laser system, and still others bring a pipe laying chute and a fixture for pipes. These individual equipment features make it possible to adapt the trencher for tractors to personal wishes or requirements.
Finding the right GM 140 AF trencher for your project
There is a wide range of trenchers to choose from. The various models are similar to some extent, but each has a different focus and special features. While some models are trenchers for excavators, for example, the GM 140 AF trencher is a trencher for tractors. In addition, the individual variants each have a different dead weight or come up with a certain number of features and equipment variants.
Grabenmeister will be happy to assist you in selecting and purchasing the milling machines you need. Some models are specially designed for drainage pipe laying and perform particularly well in corresponding tasks. With our expertise and many years of experience, we will be happy to advise you. This makes it easy for you to find your way around our wide range of products and get the ideal trencher for tractors.
Advantages of trencher GM 140 AF for tractors
GM 140 AF trencher is a mounted trencher for tractors, which can be used for various tasks in the field of soil cultivation and trenching. Here are some advantages of this trencher:
High power: The GM 140 AF is designed for tractors with a power of 35 to 70 hp. It is robustly built and can be used even in difficult soil conditions.
Easy handling: The GM 140 AF is easy to attach to the tractor and operate. The hydraulic drive allows you to precisely control the trencher and adjust the depth and width of the trench.
Versatility: The GM 140 AF is adjustable for different trench widths and depths and can be used for a wide range of applications, such as laying pipelines, draining fields or laying canals.
Efficiency: With the GM 140 AF you can dig quickly and efficiently. High power and precise control let you dig the trench in a fraction of the time it would take with traditional methods like manual digging.
Cost savings: The fast and efficient operation of the GM 140 AF allows you to save time and labor costs. The trencher is an investment that will pay off in the long run.
Less physical effort: Using a trencher like the GM 140 AF reduces the physical effort associated with manual digging. This can help reduce workplace accidents and improve occupational safety.
Overall, the GM 140 AF trencher offers many advantages for tractor owners who need to perform tillage and ditching work.
Suitable trencher for the following applications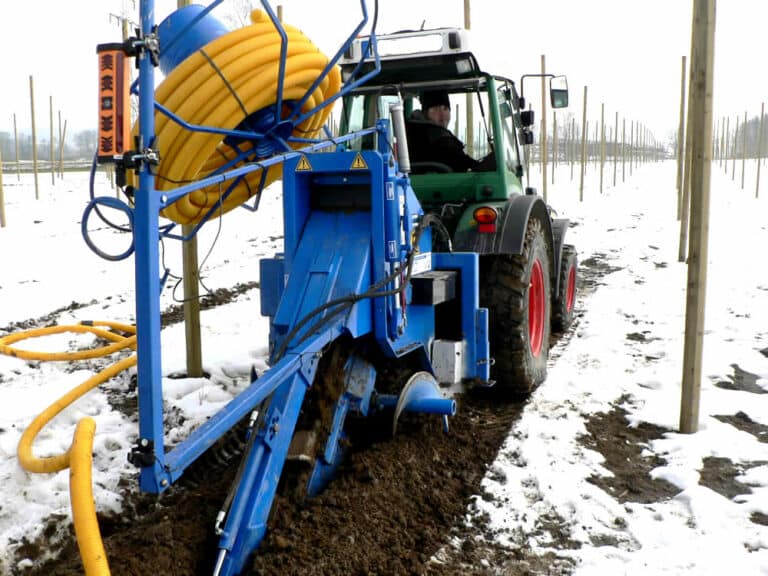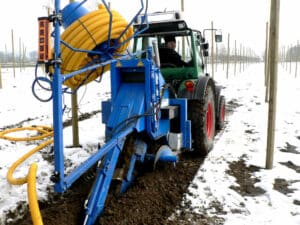 Agriculture has been one of our biggest fields of application for ages. Already many farmers work with our machines and