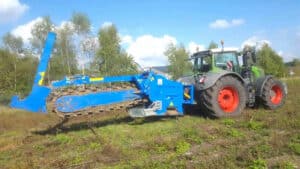 Cable laying with the GM 180 AF
The GM 180 AF trencher from Lingener Baumaschinen is a specialized machine for cable laying. It can effectively and quickly cut trenches for laying cables and lines in various soil types and conditions.
The GM 180 AF also has a hydraulic drive system so that precise control of the milling depth is possible. In addition, the machine is equipped with a reverse running system because it allows the operator to clean the trench quickly and easily.
In summary, the GM 180 AF trencher from Lingener Baumaschinen is a robust and reliable machine for cable laying. With its powerful milling technology and hydraulic drive system, it is ideal for use on the construction site.
Our new trencher GM 180 AF, even more power when laying cables

As a new member in our repertoire, the GM 180 AF represents the new top model of our mounted milling machines, so that it replaces the 160 AF from the throne. The 180 AF is characterized above all by even more power when milling, which is needed above all when milling in rock, as well as when laying cables. Likewise, a milling depth of up to 2 meters is possible. Their areas of application are thus almost unlimited, so that both fine work on a roadside and hard work such as rock milling for cable laying are possible with one machine.
Practical images GM 180 AF in various applications
Video GM 180 AF
Data sheet GM 180 AF
Milling width:
max. 600 mm
Milling depth:
max. 1800 mm
Working/
Transport speed:
Carrier dependent
Milling chain drive:
mechanical via PTO
Milling beam depth:
Chain width:
Weight:
5000 kg
Length:
5000 mm
Width:
2400 mm
Height:
2000 mm
Information about the trencher GM 180 AF in cable laying

Despite its power, the GM 180 AF is comparatively light. With a weight of just 4500 Kg, the GM 180 AF can be easily mounted on a 300 HP tractor. The carrier should have a weight of about 10 tons, so that the machine can be operated reasonably. The hydraulic power of the tractor is not very important, because the trencher is mechanically driven by a PTO, which again significantly simplifies the cable laying in hard soil. Only for lifting and lowering as well as for driving the conveyor belt, hydraulic power must be provided by the tractor. for this, however, a capacity of 60 liters at 180 bar is sufficient, so the standard value of most tractors.
A major advantage of the GM 180 AF in cable laying is the aforementioned mechanical chain drive. This ensures that considerably more power can be called up, whereby the tractor does not have to take on any effort, as it does not have to drive the chain hydraulically. This technology distinguishes us from many other manufacturers and brings great advantages. On the one hand, the already mentioned independence from the tractor, because the chain drive is not hydraulically driven. In other words, there is no loss of power due to lack of hydraulic power, ideal for cable laying.
Why lay cables with the trencher?
In fiberglass construction, accuracy and precision are crucial. If the trenches are not dug properly, the empty conduits cannot be laid properly and the fiber optic cables also cannot be pulled through the empty conduit as intended. In the end, the trench often has to be reopened to get everything back out and do it again. This does not have much to do with efficiency, because money and time are wasted in laying cables. But that can also be done differently!
How? with the trencher! In contrast to the excavator, work here is much faster because trenches are pulled more precisely and cleanly. Like a knife, the trencher cuts through the earth so that The trenches are subsequently free of stones or the like, allowing the empty pipes to be laid professionally. In other words, at the end of the day, you save money on cable relocation.
Again and again excavators are used for fiber optic work on the grounds that they would be cheaper. This is often the case in the acquisition, but the calculation often does not work out as expected. Due to problems already mentioned, such as unclean trenches, laying work often has to be done twice. This costs an extremely large amount of time and, above all, money. This money and the stress associated with it can be avoided, because at the beginning you should already resort to a trencher for laying cables.
Many of our customers previously worked with excavators and today can no longer imagine working without a trencher. Due to the extreme advantages and the versatile application possibilities, a trencher belongs to every construction company. In other words, there is no room for lost time and money in the construction industry.
The advantages of the trencher GM 180 AF for milling in rock for cable laying
In summary, the GM 180 AF trencher offers many advantages due to its strong performance and ability to work in hard rock, especially in cable laying. Here are some of the benefits you can expect:
Efficiency: The GM 180 AF trencher is a powerful machine capable of cutting deep into the rock in the shortest possible time, so that cable laying can be carried out more quickly, saving time and money.
Precision: The GM 180 AF is able to make very precise and straight cuts. This is especially important when laying cables to ensure that they run in a straight line and are not damaged.
Versatility: The GM 180 AF is able to work in different types of rock, which makes it a very versatile machine. In other words, it can be used in different projects, but without the need for additional equipment.
Low noise level: Compared to other methods of laying cables in rock, the GM 180 AF is relatively quiet. This is an advantage in urban areas or other areas where noise restrictions apply.
Safety: Using a trencher like the GM 180 AF for rock milling is safer than other methods, eliminating the need for rock blasting, for example. This is because the GM 180 AF makes controlled cuts, reducing the risk of accidents and damage.
YOUR CONTACT FOR CIVIL ENGINEERING, ALWAYS JUST A PHONE CALL AWAY
You still have questions? Want to arrange a demonstration? Or would you like expert purchasing advice? Then please feel free to call or send us an email. We have been serving you since 1964 and since then we have gained experience and knowledge that we want to use to help you in the best possible way and to provide you with the equipment that will enable you to accomplish your task. We would be pleased to welcome you as a partner of our company and are looking forward to your inquiry. Your LIBA Team!
Suitable trencher for the following applications