Trencher for hire – The GM6 ASR trencher from Lingener Baumaschinen is specially designed for use in extremely hard ground. The machine has a powerful drive system and a robust design that allows it to work effectively even in difficult conditions.
Rent a trencher. The GM6 ASR is equipped with a special milling system fitted with carbide teeth to effectively penetrate the hard soil. The machine is able to cut trenches up to 120 cm deep and 30 cm wide to lay cables, pipes or lines in the ground.
The machine also has a hydraulic control system that allows precise control of the milling head. This is especially important to ensure that the machine is not damaged while maintaining high milling efficiency.
The GM6 ASR is also equipped with a protection system that prevents the milling head from penetrating too deeply into the ground and being damaged. This extends the life of the machine and reduces operating costs.
In addition, the GM6 ASR trencher is easy to operate and has a user-friendly control panel that allows quick and easy control of the machine. The machine is also easy to maintain and repair, which extends its service life and reduces operating costs.
Overall, the GM6 ASR is a robust and reliable machine designed for use in extremely hard ground. It is easy to use, effective and can be quickly adapted to the requirements of different projects.
Practical pictures trencher GM 6 ASR in various applications.
| milling width: | 70-300 mm |
| --- | --- |
| milling depth: | 300-1200 mm |
| Motor: | Lombardini diesel 3 cyl. LDW1503 water cooled 23KW/31,5 hp |
| Traction drive: | 4x Poclain wheel drive infinitely variable |
| Working/ Transport speed: | 0-12 Km/H |
| Friction chain drive: | mech. via power belt |
| Steering: | hydr. via steering wheel |
| Electrical system: | 12V |
| Hydraulic system: | Tandem control pump Rexroth - control panel - additional hydr. via gear pump |
| Tyre undercarriage crawler undercarriage: | 26x12.00-12 Terra |
| Standard equipment: | - Standard conveyor belt hydr. (250x1000 mm) - Vertical adjustment hydr. 10 deg. - All-wheel drive (stepless) |
| Depth of frieze: | 600,850,1100 mm |
| Chain width: | 70,120,150,200,250 and 300 mm |
| Weight: | 1960 KG |
| Length: | 4100 mm |
| Width: | 1600 mm |
| Height: | 2400 mm |
You want more information?
Rock trencher hire GM6 ASR for hard surfaces
Fail-safety, protected technologies and an excellent procedure characterize the Fels trencher. The trencher provides uniform material crushing. Time-consuming re-crushing of broken rock and reworking of the surface are no longer needed thanks to the trenchers. Milling areas with the Fels trencher GM 6 ASR for rent is the more economical alternative to conventional blasting.
Our rock trencher is designed for removing rock of different strength levels. Powerful milling drums are used to break out the rock more efficiently and with a unique milling depth. The result: coarser material and a low percentage of fines.
With the trencher, the laying of pipelines can be implemented cost-effectively, quickly and in an environmentally friendly manner, even in heavy soils. Laser control guarantees laying at the prescribed slope. Conveyor belts take the excavated material to the side of the milling machine or it can be transported directly onto a vehicle. The trencher thus offers a new and efficient method for demanding surface removal tasks as well as for surface preparation and surface design.
The trencher GM 6 ASR
With the rock trencher GM 6 ASR you work at the best angle for less wear. The GM 6 ASR impresses with its tracked undercarriage and turbo diesel engine. It is a versatile and powerful rock trencher with hydraulic milling boom. The boom can be moved laterally up to 40 centimeters above the outer edge of the machine. The excavated material lands in the milling direction on the left via the hydraulic conveyor belt at the desired location. With a supplementary conveyor belt, the excavated material can be loaded onto a truck in one operation. This assembly line can be easily ordered in addition.
The Fels trencher GM 6 ASR is equipped with guide rollers that allow direct pipe and cable feeding. The cabin can be swiveled hydraulically. Thanks to the tilt device, lateral slopes of up to 12 degrees can be hydraulically compensated without any problems. The many years of experience in the field of rock milling is now being implemented with theGM 6 ASR trencher.
With us, you benefit from many years of experience and professional expertise
Our devices are characterized by high functionality and reliability. They have already proven themselves in many applications and on numerous projects and are used by a large number of companies. In addition, we offer you over 50 years of experience, which is reflected in the technical sophistication and professionalism of our trenchers. We are active worldwide and are therefore familiar with the needs of small companies as well as the demands of global corporations. Through this experience, you benefit from immense know-how and are offered the optimal mix of high-quality equipment and first-class, hands-on customer service. Choose excellent quality and the best way is to contact us directly.
The advantages of the GM6 trenchers for rocky and hard ground
The Fels trencher works in the soil class independent method. Mined soil can also be reinstalled when rock is in place. The soil is disturbed only in the trench area. In addition, the GM 6 ASR trencher ensures a faster excavation process than conventional methods. Time savings of up to 60 percent are possible compared to the classic construction method. Our trencher also enables the creation of a trench with vertical walls.
Trencher GM6 for rent, is a powerful tool for digging trenches in rocky and hard ground. Here are some advantages of the GM6 for this application:
High performance: The GM6 has high performance and can effortlessly dig through rocky and hard ground. The machine can also crush large rocks and remove them from the trench.
Precise digging: The GM6 can dig precise trenches, making it ideal for projects where accurate alignment is important.
Efficient operation: The GM6 works quickly and efficiently, saving time and costs. The device can also be used in difficult working conditions, e.g. in rough terrain or in bad weather.
Low workload: The GM6 is easy to operate and requires only a small amount of work. The operation of the machine requires only a few workers and can also be operated by one person.
Versatility: The GM6 is versatile and can be used for different types of projects, such as laying cables or pipes, preparing building sites or landscaping work.
Overall, the GM6 is a powerful and versatile trencher that is ideal for digging trenches in rocky and hard ground.
Suitable trencher for the following applications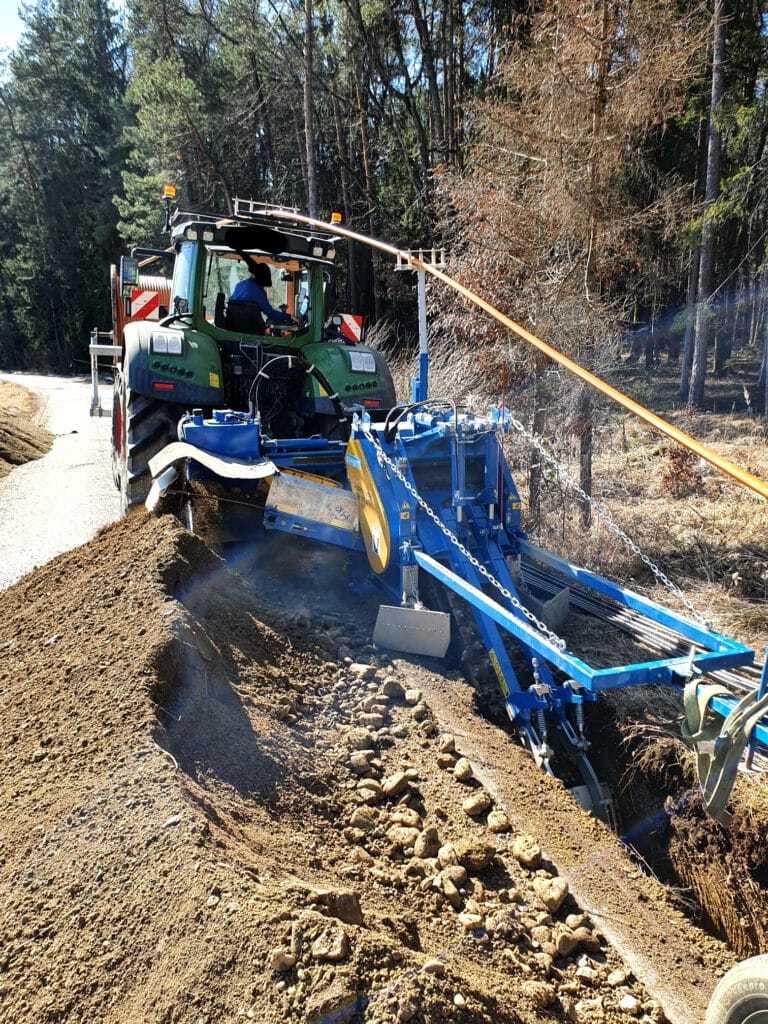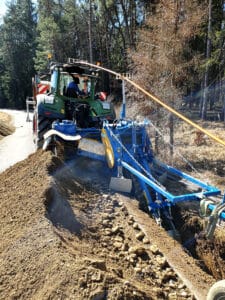 Trenchers for cable and wire laying can be used to cut trenches for laying cables. Here are some steps you