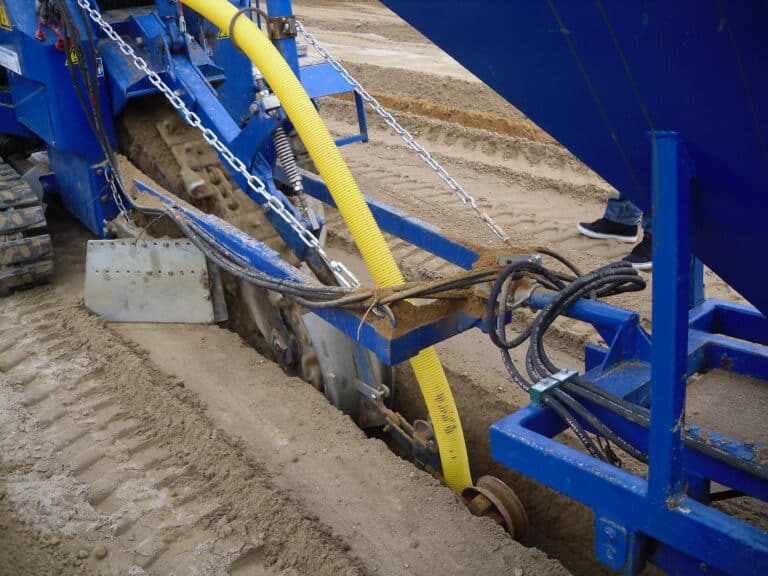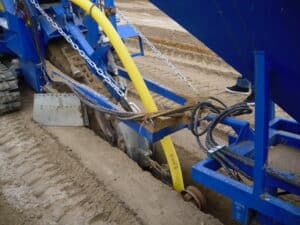 Effective drainage is critical to ensure drainage and protection of areas from water accumulation. Trenchers play an important role in the installation of such systems. With their powerful milling technology, they enable efficient and precise creation of trenches for the installation of drainage pipes. In this article, we will take a closer look at how trenchers facilitate the installation of drainage.
Efficient excavation work: The use of trenchers greatly facilitates the execution of excavation work for drainage systems. The machines are specially designed for this purpose and offer high performance. With their robust cutting tools, they can quickly and efficiently break up the soil and precisely dig the trenches for the drainage pipes. This results in significant time savings and allows you to complete projects on time.

Precise installation of drainage pipes: One of the most important tasks in the installation of drainage systems is the precise installation of the drainage pipes. Trenchers make it possible to create trenches with exactly the right dimensions for the pipes. With their precise control of excavation depth and width, they ensure reliable and uniform placement of the pipes. This is critical to ensure optimal drainage and maximize the efficiency of the system.

Flexibility in different soil conditions: Drainage is installed in different soil conditions. Trenchers provide the flexibility needed to meet these challenges. Whether the soil is hard, clayey or stony, the machines can efficiently push through and create trenches for the drainage pipes. This flexibility allows you to install drainage systems in a variety of locations and soil types.

Time and cost savings: The use of trenchers not only makes the work easier, but also saves time and money. The fast and efficient execution of excavation work significantly reduces labor hours and machine costs. In addition, the precise placement of drainage pipes minimizes the risk of errors or subsequent adjustments that could result in expensive repairs or rebuilds.

Improving drainage performance: Precise installation of drainage pipes with trenchers optimizes the drainage performance of the system. The even placement of the pipes allows for a smooth flow of water and prevents blockages or obstructions. This minimizes the risk of flooding, erosion, and damage to structures or plants.
Conclusion: Trenchers are indispensable tools for the installation of drainage. With their efficient excavation technology, precise installation of drainage pipes, flexibility in different soil conditions, time and cost savings, and improvement of drainage performance, they facilitate the installation of effective and reliable drainage systems.
If you want to install drainage systems, you should consider the advantages of trenchers. Contact a reputable rental company near you to find the right trencher for your needs and simplify the installation of your drainage systems.