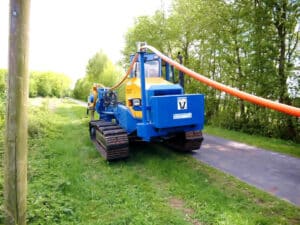 Cable laying is an important step in various construction projects, be it for power, communication or other types of cables. An innovative method that is gaining more and more importance is cable laying with trenchers. In this article, we will take a closer look at the benefits of this innovative technology and why using trenchers makes cable laying more efficient and precise.
Efficiency and time savings: The use of trenchers for cable laying offers a huge increase in efficiency. These machines can dig cable trenches in a very short time, which significantly reduces the overall duration of the project. Compared to traditional manual labor, trenchers enable faster and more efficient cable laying. This results in significant time savings and allows you to complete projects on time.
Precise laying of cables: Trenchers can be used to lay cables precisely and evenly. The machines are equipped with special guiding systems that allow to precisely set the desired depth and width of the cable trench. This ensures uniform and accurate placement of cables, which improves the functionality and longevity of the network or system. With precise cable routing, you can also minimize problems such as cable breaks or power loss.
Flexibility and adaptability: Trenchers offer high flexibility and adaptability in cable laying. Depending on the project requirements, you can choose the right machine to handle different soil types, trench depths and cable diameters. This allows you to optimally adapt the cable routing to your specific needs. Whether it's a residential development, a commercial site or an infrastructure expansion, trenchers can provide a customized solution.
Low surface disturbance: Another advantageous feature of cable laying with trenchers is the low surface disturbance. Unlike conventional methods, trenchers leave minimal damage to the surface. This is especially important in urban areas or sensitive terrain where minimal disturbance is desired. The low surface disturbance also facilitates subsequent maintenance or repair work, as the trench can be closed again quickly and easily.
Conclusion: Cable laying with trenchers offers numerous advantages, including efficiency, precision, flexibility and low surface disturbance. By using this innovative technology, construction companies and telecommunications service providers can make their cable-laying projects more efficient and effective. If you want fast and precise cable laying, consider using trenchers. Contact an experienced rental company near you and learn more about the advantages of this modern method.