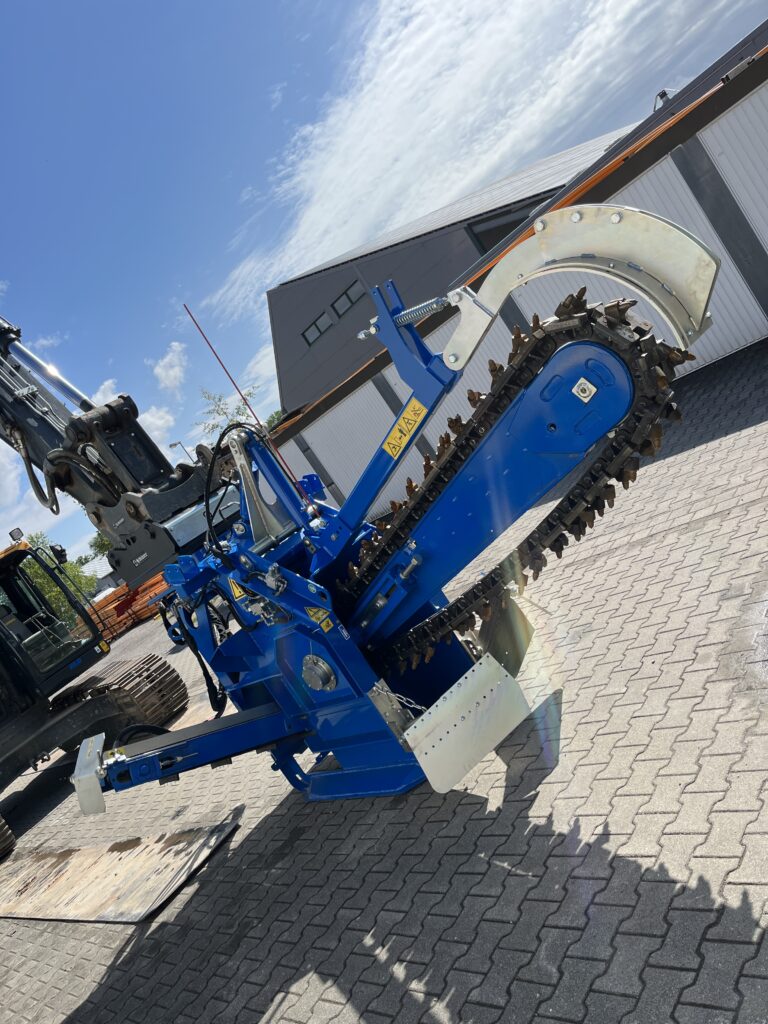 Lingen, July 13, 2023 – Lingener Baumaschinen, a leading supplier of mounted trenchers, is pleased to introduce its latest line of high-performance mounted trenchers. With their impressive power and versatility, these trenchers offer an efficient solution for excavation work in different areas.
Lingener Baumaschinen's mounted milling machines are specially designed to facilitate and efficiently perform excavation work. They are equipped with high-quality cutting tools and a robust drive system to achieve the best results even in the toughest soil conditions. Whether building cable shafts, pipelines or drainage systems, these trenchers provide the power and precision you need.
One of the outstanding features of the mounted milling machines from Lingener Baumaschinen is their versatility. They are available in a variety of sizes and configurations to meet the specific needs of each project. In addition, they are equipped with a simple and quick attachment and detachment system to enable smooth changeover between machines. This allows contractors to save time and maximize productivity.
The mounted milling machines from Lingener Baumaschinen not only offer outstanding performance, but also user-friendly operation. They are equipped with intuitive controls and precise steering to ensure easy and accurate handling. This simplifies the work for the operators and increases the efficiency of the excavation work.
Another advantage of the mounted trencher from Lingener Baumaschinen is its high quality and durability. The machines are made of robust materials and carefully tested to withstand the demanding requirements on construction sites. This ensures reliable and long-term performance of the trenchers, which in turn increases profitability and customer satisfaction.
To meet customers' needs and budgets, Lingener Baumaschinen offers flexible rental options for its milling machines. This allows customers to rent machines only for the period they are needed and control the cost of machinery.
If you are looking for powerful and versatile mounted milling machines, Lingener Baumaschinen is the right partner for you. With its many years of experience and expertise in the field of construction equipment, the company offers high-quality solutions for the most demanding excavation work.
Contact Lingener Baumaschinen today to learn more about their powerful attachment milling machines and how they can help you on your next construction project.