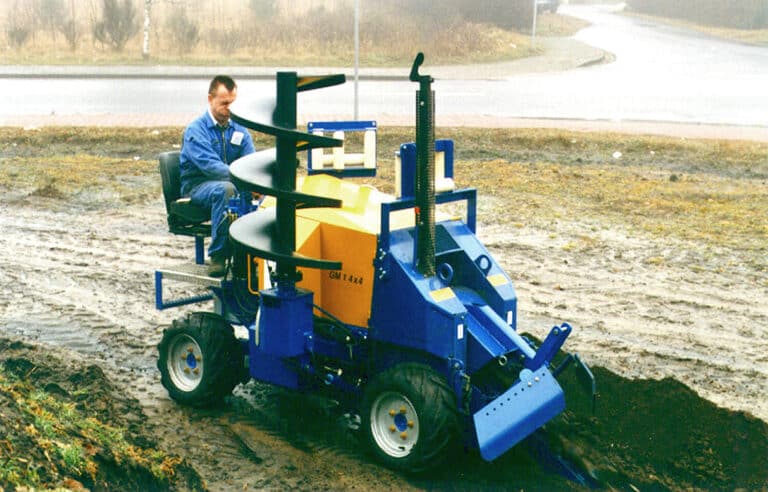 Trencher GM 1 4WD from Lingener Baumaschinen is a powerful machine specially designed for cable laying. The machine has four drive wheels that provide high traction and maneuverability on different types of terrain.
The GM 1 4WD is equipped with a powerful diesel engine and has an automatic die control that guides the cutter head precisely through the soil. This allows cable ducts to be dug quickly and efficiently.
The machine also has a hydraulic system that allows quick and easy adjustment of the milling depth. This is especially useful when ground conditions vary or when different cable sizes need to be installed.
In addition, the GM 1 4WD is equipped with a filling device that transports the excavated material directly into a trailer or container. This allows the excavation material to be removed quickly and easily.
Overall, the GM 1 4WD trencher from Lingener Baumaschinen is a robust and reliable machine that is ideal for cable laying. It is easy to use and can be quickly customized to meet the needs of different construction projects.
When digging trenches for irrigation systems, drainage and underground cables, trenchers for cable laying are the first choice. LIBA has various trenchers in its program, which are convincing with their all-terrain and powerful caterpillar drive, a user-friendly control system and the extremely robust construction. The small but powerful GM 1 Allrad has straightforward controls and is therefore suitable for quick familiarization, because its mode of operation is immediately clear from the first use.
Practical pictures trencher GM 1 4WD in various applications.
| milling width: | 70-300 mm |
| --- | --- |
| milling depth: | 300-1200 mm |
| Motor: | Lombardini diesel 3 cyl. LDW1503 water cooled 23KW/31,5 hp |
| Traction drive: | 4x Poclain wheel drive infinitely variable |
| Working/ Transport speed: | 0-12 Km/H |
| Friction chain drive: | mech. via power belt |
| Steering: | hydr. via steering wheel |
| Electrical system: | 12V |
| Hydraulic system: | - Tandem control pump Rexroth - control panel - additional hydr. via gear pump |
| Tyre undercarriage crawler undercarriage: | 26x12.00-12 Terra |
| Standard equipment: | - Standard conveyor belt hydr. (250x1000 mm) - Vertical adjustment hydr. 10 deg. - All-wheel drive (stepless) |
| Depth of frieze: | 600, 850, 1100 mm |
| Chain width: | 70, 120, 150, 200, 250 and 300 mm |
| Weight: | 1960 KG |
| Length: | 4100 mm |
| Width: | 1600 mm |
| Height: | 2400 mm |
Trenching for cable laying
Digging trenches for laying cables is often fraught with pitfalls, requires professional equipment and careful preparation. Trenchers from LIBA with their jerk-free drive cut clean and dead-straight trenches for cable laying every time. Regardless of the soil conditions, the milling machines are in full operation. If wet clay, stones or debris make the milling work difficult, the chain run is briefly changed between reverse and forward and the trenchers for cable laying run freely again. The low center of gravity of the milling machines guarantees safe standing even in uneven positions. If a tree stump should ever appear on the path, this will not stop the cable laying. The robustly crafted head is equipped with sufficient ground clearance for the crossing.
Cable shaft with trencher – save time and money
GM 1 All-Wheel Drive Series trenchers are diesel-powered and self-propelled all-wheel drive trenchers. They have a low dead weight and thus guarantee a low floor load. The tilt device can easily compensate for lateral slopes of up to 15 degrees. The operator platform of the trenchers can be swiveled. The excavated material is ejected either to the right or to the left. However, thanks to the conveyor belt that can be inserted on both sides, the excavated material can also be loaded directly. Due to the additional backfill hopper, milling and backfilling with gravel is realized with only one working step. Additional accessories enable direct cable and pipe feeding of the GM 1 all-wheel trenchers. In addition, the all-wheel milling machines can also be equipped with twin tires. The self-propelled machine can easily cut trenches even in firm soil types. These trenchers are indispensable tools for laying cables.
Minimal damage at maximum utilization
The extremely environmentally friendly alternative to the excavator guarantees maximum workload for cable laying without major disruptions in terms of the Nature Conservation Act. A central focus of activity in construction is the laying of cables in various designs. The services of the all-rounder include not only the construction of cable trenches, but also environmentally friendly excavation of the soil. The individual equipment of our trenchers is available on request.
With us, you benefit from many years of experience and professional expertise
Our devices are characterized by high functionality and reliability. They have already proven themselves in many applications and on numerous projects and are used by a large number of companies. In addition, we offer you over 50 years of experience, which is reflected in the technical sophistication and professionalism of our trenchers.
Advantages of the trencher GM 1 4WD for cable laying
The trencher GM 1 4WD offers some advantages for cable laying, such as:
Efficient and precise cable laying: With the trencher you can cut precise and clean trenches for cable laying. This saves time and energy compared to manual excavation.
All-wheel drive: The GM 1 4WD's all-wheel drive ensures optimum traction even on difficult terrain, which increases working speed and improves working conditions.
Easy operation: The operation of the GM 1 4WD is simple and intuitive, which facilitates work processes and increases safety.
Versatility: The trencher is suitable for various soil types and can also be used for other applications such as drainage and irrigation.
Cost efficiency: Using the GM 1 4WD can save you time and labor costs, which can have a positive impact on your project costs.
Overall, the GM 1 4WD trencher offers an efficient, precise and cost-effective solution for cable laying that delivers good results even in difficult conditions.
You want more information?
Suitable trenchers for track construction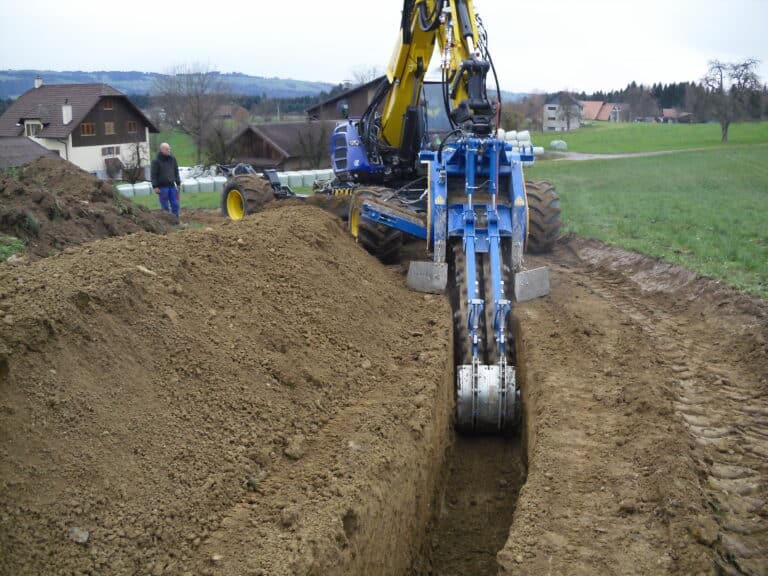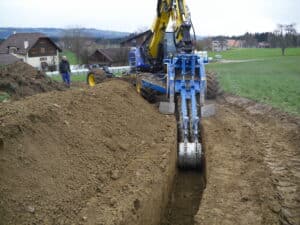 The GM 140 AFH-600 trencher from Lingener Baumaschinen is a powerful machine specially designed for use in pipeline construction. It is ideal for the construction