Trenchers in track construction are highly specialized machines used in the field of track construction for the precise and efficient excavation of trenches. With their help, cables, lines or pipes can be laid or repairs carried out without significantly interfering with track operation.
Trenchers in track construction are specially designed to mill along the tracks. Here, the machine is mounted on a road-rail excavator and pulled alongside the tracks via the excavator arm. This makes the machine very flexible, as it can be placed as desired via the excavator arm. The removed earth mass is transported out of the trench by conveyor belts or screw conveyors and dumped elsewhere.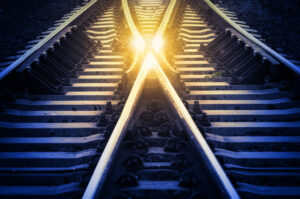 A decisive advantage of trenchers in track construction is their speed . A trencher is capable of working much faster than an excavator. At the same time, it ensures precise and accurate excavation of the trench in terms of width and depth, which would not be possible with an excavator bucket. By meeting the required safety standards and preventing damage to the tracks, these machines enable construction work to proceed smoothly and effectively.
Trenching in track construction
The use of trenchers in track construction is of great importance, especially for specialized companies or construction companies that specialize in track work. The use of these machines greatly facilitates and accelerates the excavation of trenches along the tracks. At the same time, the disruption to train traffic is reduced to a minimum.
In summary, trenchers in track construction play an indispensable role in the efficient execution of trenching operations along tracks. Their precision, efficiency and ability to have minimal impact on track operations make them a preferred choice for track construction companies. When it comes to trenching in track construction, trenchers are the optimal solution.
Because of its versatility and flexibility, many of our track construction customers turn to a trencher. Let us help you choose the right model for your project and we can confirm from experience that a trencher will fundamentally change the way your track construction company works.